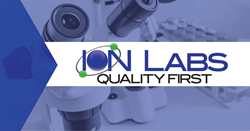 TAMPA, Fla. (PRWEB) January 30, 2018
The manufacturing process of liquid capsules fills two-piece hard shell gelatin and vegetable cellulose capsules with liquids, semi-solids, suspensions and smaller capsules using advanced technology and nutraceutical manufacturing machinery by highly-trained operators in our state-of-the-art facility.
Each liquid capsule product at Ion Labs is manufactured with a vigilant attention to quality, going through an extensive product testing process by our in-house Quality Control and Research & Development teams. This ensures each batch meets quality and safety standards, regulations, product requirements, and customer needs.
"Liquid Capsule machines are going to become the future of our business, because many companies are looking for innovation, and that is going to be a big part of the future innovation." Ivan IIchev, VP of Operations at Ion Labs, tells us.
Ion Labs Manufacturing Capabilities
5 powder blenders ranging from 100kg to 9,000kg per batch
7 tablet presses (8 million tablets per shift)
8 double and triple head encapsulation machines (8 million capsules per shift)
6 liquid capsule and capsule-in-capsule machines with banders
3 coating machines ranging from 120kg to 600kg per pan load
3 tablet and capsule bottling lines (125,000 bottles per shift)
1 powder filling line (30,000 bottles per shift)
Blister packing
Unit dose PVC vials
Automatic cartoning machines (bottles and blisters)
Shrink wrapping (bottles, trays, etc.)
Shrink sleeving
Sachets (tablets/capsules [including multi-packs] and powders)
Stick packs
8 liquid/cosmetic mixing tanks ranging from 80 to 3,000 gallons
4 liquid/cosmetic filling lines (100,000 bottles per shift)
About Ion Labs
Ion Labs, Inc. is a contract manufacturer that has been providing new and existing clients with the highest quality products in nutrition and health manufacturing since 1983. From product development to GMP contract manufacturing to release and shipping, adherence to NSF cGMP compliance in an FDA-registered facility has been our formula for integrity and product fulfillment for over thirty years. Ion Labs specializes in manufacturing dietary supplements, OTC Drugs, pet supplements, and skin care products in the United States of America.