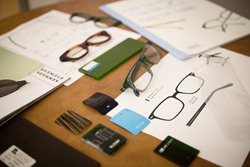 The students delivered professional-quality presentations
GRAND RAPIDS, Mich. (PRWEB) January 30, 2018
Industrial Design IV students at Kendall College of Art and Design of Ferris State University (KCAD) presented their fall semester final eyewear projects to professionals from Grand Rapids Ophthalmology (GRO). Over the course of 15 weeks, KCAD students created a "family" of eyewear products; they accomplished this through research, design documentation, concept ideation, design development, and collaboration with GRO. The styling, components, and functionality of the eyewear lines either solved a unique user problem or utilized a new material.
"During one of our initial visits, we had a classroom discussion about optical needs and opportunities in today's market," said Cassandra Barrett, GRO's Optical Director. "At our last visit, the students delivered professional-quality presentations that thoroughly outlined their thought process, explained the brand attributes of their eyewear family, and ultimately revealed a wearable prototype."
Professor Tom Edwards, who retired from KCAD at the end of 2017 after 26 years of teaching, designed this course so that students would be learning as a result of hands-on experience. Collaborating with GRO made the project experience more realistic and exposed KCAD students to many of the design tools and processes they will need after college when they enter the workforce.
"The eyewear project with Grand Rapids Ophthalmology was challenging for the students but a perfect exercise in design thinking: iterative concept generation, multiple physical prototypes to test our assumptions, and balancing functional needs with styling," said Edwards. "The GRO team was very helpful, especially on the technical aspects of fitting and fabricating eyewear. Both the students and the 'clients' were excited about the results and felt the project was very successful. I did too."
About Grand Rapids Ophthalmology
Founded in 1982, Grand Rapids Ophthalmology (GRO) is the largest fully-integrated eye care medical group in West Michigan. It offers a full suite of eye care services from routine eye exams, contact lenses and glasses, to the most advanced medical and surgical treatments such as LASIK, cataract, cornea, retina, glaucoma, oculoplastics, pediatric, and both cosmetic and reconstructive eyelid surgery. GRO employs the largest number of eye care specialists and professionals in the region: 11 ophthalmologists, 20 optometrists, and 50 certified opticians; with a total of 400 employees at 12 locations. For more information, visit: http://www.seeitclear.com.
About KCAD
Located in the heart of downtown Grand Rapids, Kendall College of Art and Design of Ferris State University (KCAD) is committed to creating lasting impact in West Michigan and beyond through collaborative partnerships, cultural innovation, and an educational model that prepares students for leadership in the visual arts, design, art history, and art education; provides innovative, collaborative education that fosters intellectual growth and individual creativity; and promotes the ethical and civic responsibilities of artists and designers, locally and globally. For more information, please visit kcad.edu.