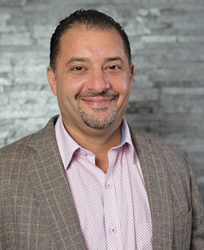 DANIA BEACH, Fla. (PRWEB) January 31, 2018
Issa Asad, founder and CEO of Q Link Wireless, announced today that his company, the nation's third-largest provider of free phone service through the federal Lifeline program, will add 40 new fulltime jobs at its headquarters in Dania Beach. The job creation comes after the FCC awarded Q Link a license to provide its wireless services in Arkansas, the first license of its type issued by the FCC in more than five years, followed by another license in Hawaii. Expansion into Arkansas and Hawaii increases Q Link's geographic presence to 30 states and Puerto Rico and will translate to significant growth beyond its existing 1.9 million customers.
"These new jobs increase our Broward-based workforce by 15 percent in c-suite, mid-, and entry-level positions," said Issa Asad, founder and CEO of Q Link Wireless. "While we have operations throughout the nation, Florida – and more specifically, Broward County – is our home. So we want to do everything possible to make sure this community benefits from our growth and success."
The company is actively recruiting employees in all areas, from sales and customer service, to fulfillment, to senior management; and several of the jobs are high-paying positions. Q Link provides employees with competitive pay, health insurance, a retirement plan, and bonus opportunities.
The company's rapid growth since its founding in 2014 has resulted in more than 300 local jobs. Unlike many of his competitors that outsource jobs overseas, Issa Asad has purposely sought to keep the entirety of his employees together in one location. He maintains this staffing approach at every level, housing compliance, marketing, and even warehouse services at the headquarters location in Dania Beach.
"Over the past few years, Q Link has grown dramatically and hired full-time workers from diverse backgrounds," said Rafa Carvajal, chief operating officer for Q Link. "Now, as we expand service to new parts of the county, I have every expectation we will continue to contribute to the economic stability of our community here in South Florida."
Q Link serves people who might not otherwise have access to wireless phones, including veterans, SNAP recipients, Medicaid recipients, and people living in Section 8 housing. Program participants receive a free smart phone, 350 minutes of calling each month, unlimited texts, and up to 1 gigabyte of free data. The program was designed for Americans who might not otherwise have access to vital communication services, including the ability to make 9-1-1 calls.
For more information about Q Link Wireless, or to schedule an interview with Issa Asad, please contact Meieli Sawyer at 305-668-0070 or msawyer(at)weinbachgroup(dot)com.
About Q Link Wireless
Q Link Wireless, a Quadrant Holdings Company, is one of the nation's leading providers of wireless voice and data service through the Lifeline Program. With more than 1.9 million customers, Q Link is wirelessly connecting people to the world around them, regardless of their income.