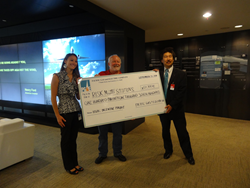 NEWARK, Calif. (PRWEB) January 31, 2018
Comfort International, Inc. was recognized for its energy savings project for RMS's 150,000 square feet headquarters / computer networking facility, saving RMS over $201,000 per year in annual energy cost measured at the utility meter. The project received a Pacific Gas & Electric rebate of $121,700 to RMS from PG & E.
Jim Zuiderhoek, CFM, Director of Facilities inherently knew that the energy usage could be reduced. Jim worked with Comfort International to perform an investment grade energy audit to maximize energy savings with a payback limit of 2 years. The audit identified energy savings of $151,000 per year with a 1.6 year payback. Founder and CEO, Alan Pong remarked, "We had to do all of the improvements with zero downtime due to the critical computer rooms and I am proud that our team implemented the complex building automation, VFD, and HVAC modifications without any downtime."
The project was performed without disrupting RMS's many critical network computer rooms essential to their operations. The energy savings were guaranteed and measured at the utility meter, achieving $201,000/year & over 1,200,000 lbs. of CO2 reduced.
Comfort International is able to engineer solutions with very short returns on investment (ROI) through a turnkey process. Most projects achieve a 50% return on investment. Energy savings of 40% or more are standard and can be guaranteed at the utility meter. In achieving such results, Mr, Pong credits his company's comprehensive efficient energy management systems (EEMS) study process. He adds: "When energy efficiency is properly engineered on a whole building approach results like RMS are typical, enabling commercial clients to achieve huge savings even on leased buildings that they do not own."
About Comfort International Inc.
Comfort International "CI", a global energy efficiency organization, is exclusively focused on achieving peak efficiencies with existing buildings. We identify unique and effective solutions that permanently decrease recurring operational cost directly related to heating, ventilation, air conditioning, and lighting in your workplace environment. CI will increase workplace comfort while positively impacting your bottom-line as well as the environment Comfort International is a green-focused energy management and HVAC maintenance firm located in San Jose, California,
About RMS
More than 400 insurers, reinsurers, financial institutions, corporations, governments, and other non-governmental organizations trust RMS models, technology, and services to better understand and manage catastrophe risks throughout the world.