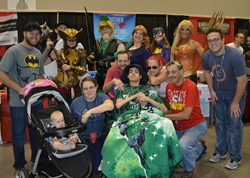 SPRYTE Communications is truly anchored by our depth in healthcare.
PHILADELPHIA (PRWEB) January 31, 2018
SPRYTE Communications is celebrating its first anniversary today. That's the word from CEO Lisa Simon, who said the agency is marking the milestone with an employee team building exercise at the firm's offices in The Bellevue in Center City Philadelphia.
A robust and varied healthcare industry is providing plenty of opportunity, according to Simon. "Business is solid and we're very encouraged by the growing marketplace," she said.
Simon said the agency's repositioning from a general, regional firm known as Simon PR, to a specialized one focused exclusively on healthcare was the inspiration for the name change.
"Rebranding and relaunching were excellent moves for the firm. Healthcare had always been a cornerstone of our business, but it's not what we were known for," Simon said. "SPRYTE Communications is truly anchored by our depth in healthcare."
Included is a niche expertise in hospice and home care companies within the provider space and many years serving hospitals, health systems and physician practices. SPRYTE is also actively seeking corporate communications opportunities with pharmaceutical companies and health insurers.
About SPRYTE Communications
SPRYTE Communications specializes in healthcare and industries touched by healthcare. Its seasoned team of professionals have years of institutional and agency healthcare experience. SPRYTE actively seeks bright new opportunities with provider organizations, pharmaceutical companies, health insurers, foundations, health advocacy groups, healthcare associations, healthcare law firms, social service agencies, healthcare educators and government. The firm is known for its creativity, tenacity and drive in the areas of media relations, reputation management, public affairs, referral marketing and digital content and social marketing. For additional information, visit http://www.sprytecom.com or call 215-545-4715.