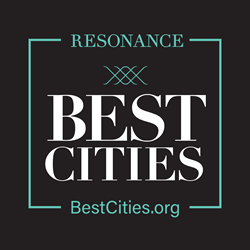 "With the ubiquity of Valentine's Day—and related travel and tourism activity—around the world, we wanted to quantify the most romantic cities on Earth, and highlight their attributes," says Resonance President and CEO Chris Fair
NEW YORK (PRWEB) January 31, 2018
Resonance Consultancy, leading global advisors in real estate, tourism, and economic development for countries, cities and communities, is pleased to announce the 2018 World's Most Romantic Cities, a ranking of the 10 best-performing cities across the categories of Culture, Dining and Shopping, Landmarks, and Hotels Recommended by Locals and Visitors.
The firm's World's Best Cities ranking is the most comprehensive city ranking on the planet, based on an entirely original methodology that uses the opinions of the people who matter most: visitors and residents. The world's most romantic cities is a subset of Resonance Consultancy's 2018 global city ranking.
Resonance Consultancy's World's Best Cities ranking analyzes and compares 23 factors in six key categories using a combination of core statistics and online ratings and reviews—from TripAdvisor reviews, Facebook check-ins, Google searches and Google Trends. This helps cities understand their strengths and weaknesses through the lens of the people who visit and live in each city.
"With the ubiquity of Valentine's Day—and related travel and tourism activity—around the world, we wanted to quantify the most romantic cities on Earth, and highlight their attributes," says Resonance President and CEO Chris Fair. "We create place-branding strategies, tourism and economic development plans and trend reports for city, tourism and economic development organizations every day. It's fascinating to use our exclusive global insights to match cities with the cultural zeitgeist like this."
A COMPREHENSIVE RANKING OF THE WORLD'S MOST ROMANTIC CITIES
Where to find love, beauty, and inspiration through travel—from St. Petersburg to São Paulo.
We explored the performance of the world's top 100 cities across the categories of Culture, Dining, Shopping, Landmarks, and Hotels Recommended By Locals and Visitors to determine the most romantic cities in the world, just in time for Valentine's Day.
1. London
Start your romantic exploration of "The Capital of Capitals" at centuries-old cathedrals and refuel courtesy of the kinetic food scene.
2. Tokyo
One of the world's top food cities beguiles with secret gardens and big-city vistas.
3. Paris
Because Paris is always a good idea.
4. New York
Catch a show that they'll never forget, then escape the billboards with a locals-only speakeasy that the celebrities haven't discovered yet.
5. Rome
Eternal love in the Eternal City is everywhere—from the patina of millennia-old alleys to Old World riffs on cocktail bars.
6. Moscow
Artistry, history, and majesty. Russia's beguiling capital is a cultural gold mine spanning the ages.
7. Istanbul
A city of contradictions and one where impressive architecture, centuries-old traditions, eclectic dining, and stellar views await lovers young and old.
8. São Paulo
From lush gardens to extraordinary architecture and some of the best restaurants in the Americas, São Paulo surprises and delights at every turn.
9. Prague
The city's fairy tale spirit can still be found in its ancient cobbled streets and its castle perched on a hilltop, in its hidden alleys, its ancient bridges and dreamy spires.
10. St. Petersburg
This city of 40 islands and 342 bridges is both regal and sumptuous, and offers everything from world famous venues for ballet and opera to artistic powerhouses and luxurious hotels fit for a prince and his princess.
ABOUT RESONANCE CONSULTANCY
As leading advisors in real estate, tourism, and economic development for three decades, Resonance combines business strategy and marketing creativity to shape the future of communities, cities and countries. Resonance works across the fields of place development strategy, place marketing, placemaking and place branding, in partnership with developers, planners, architects, DMOs, economic development agencies and others to make places the best they can be. The team has completed more than 100 visioning, strategy, planning, policy and branding projects for destinations and developers in more than 70 countries. To learn more about Resonance and their services, please visit ResonanceCo.com and @ResonanceCo.
ABOUT BESTCITIES.ORG
Best Cities is the home of Resonance Consultancy's exclusive ranking of the world's top urban destinations. Best Cities rankings are underpinned by the most credible source of city performance—the true opinions and rankings based on the experiences of visitors and residents alike. Our ranking's exclusive methodology quantifies and benchmarks the relative quality of place, reputation and competitive identity for global cities across multiple factors using core statistics and online ratings and reviews. The Best Cities Finder lets users discover their ideal cities based on interests and priorities. The weekly newsletter keeps users up to date on the places that matter to them. Follow us @BestCitiesOrg and #BestCities.
GET YOUR FREE 2018 WORLD'S BEST CITIES REPORT
The free 2018 World's Best Cities Report is available at ResonanceCo.com/BestCities2018. All 100 cities are profiled at BestCities.org, including a city finder that surfaces cities based on user preferences—from parks to nightlife—using Resonance Consultancy's proprietary data.
– 30 –
FOR MORE INFORMATION OR INTERVIEWS, PLEASE CONTACT:
SARA FAHY
Vice President, Strategy & Communications
Resonance Consultancy
+1-949-887-4476
sfahy(at)resonanceco.com