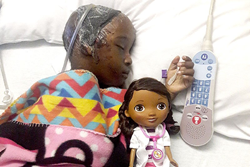 ATLANTA (PRWEB) January 31, 2018
Zagoria Law, an Atlanta-based law firm specializing in personal injury cases, today announced it has filed suit in the case of Willie Sanders, Jeresha Williams and Syrai Sanders (a minor) v. Lifeline Animal Project, Inc. According to court documents, filed in the State Court of DeKalb County under civil action file number 18A67776, Syrai Sanders, then five years-old, was mauled by multiple dogs while walking to her school bus stop from her home. The young girl suffered multiple bite wounds and her right ear was torn from her head.
The court documents claim that a pack of vicious dogs approached a group of children, including Sanders, who were walking to the bus stop. Adults at the scene attempted to keep the dogs away using bats and sticks, but Sanders was not able to escape and was attacked by the dogs. This same pack of dogs was allegedly roaming free and loose in the same Southwest Atlanta neighborhood as recently as the day before this attack.
Per court documents, LifeLine Animal Project, Inc., was under contract with Fulton County Animal Services to enforce applicable Fulton County Code of Ordinances, including leash and dangerous animal laws, in the neighborhood where Sanders lives and where the attack occurred.
"More than four million Americans are victims of dog bites every year and Zagoria Law is dedicated to seeking justice for our clients," said Zagoria Law Founder and Principal David Zagoria. "Our goal is to have the court examine whether or not LifeLine allegedly failed to take reasonable steps to uphold their animal control duties, which resulted in significant harm to Syria."
Follow Zagoria Law:LinkedIn
About Zagoria Law
Zagoria Law is an Atlanta-based personal injury law firm dedicated to providing unyielding representation to its clients. Founder David Zagoria has more than 20 years of experience as a prosecutor and trial attorney litigating injury cases in State and Federal Courts throughout Georgia. Honored as a Georgia Super Lawyer, Zagoria's focus on personal injury cases, specifically dog bites and serious injury-premises liability cases, ensures unparalleled service and dedication from the very beginning of clients' cases until the end. For more information, please visit http://www.lawzagoria.com.