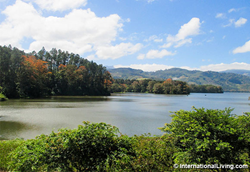 I forget just how good we have it until I go back to the States and see some of the prices
BALTIMORE (PRWEB) January 30, 2018
Healthcare is one of the most important and hard-to-plan-for costs in retirement. For many Baby Boomers in the United States, it's the biggest expense they incur in their "golden years"—and it can be crippling.
But in the right places overseas, according to the editors at International Living, it's possible to access world-class care for pennies on the dollar.
The high level of service and low cost of quality healthcare has attracted thousands of U.S. and Canadian retirees to the world's top retirement havens abroad. Expats in these countries praise the quality of care, reporting that physicians take time and often share their personal cell phone numbers with patients.
They say, too, that they're impressed by the affordability of healthcare. Prices are often so low, expats simply pay out of pocket. And health insurance premiums can come to less than $100 a month for a couple.
"Our evaluation of the healthcare across the 24 countries we compare and contrast in our annual Index includes an investigation of the typical quality of care for expats, access to care, and costs for care and medications in the communities where we recommend expats go," says International Living's Executive Editor, Jennifer Stevens.
"In addition to a survey of specific prices for a range of treatments, medications, and insurance, we also take into account the ease with which expats can access care. In the communities we recommend in all the nations that top our list, expats can find excellent healthcare at prices as low as 50% or less of what they'd expect to pay at home in the United States.
"This is as true for medical tourists who simply 'dip in' to a system to get their teeth cleaned, say, or have an in-depth physical with tests...as it is for full-time expats who enjoy what they say is often better care than they received at home—for a small fraction of what they used to pay."
The five countries that scored the highest marks for Best Healthcare in the World in this year's Annual Global Retirement Index 2018 are...
Costa Rica claims the top spot in the Healthcare category of International Living's Global Retirement Index, scoring 99 out of 100.
Texan John Michael Arthur, M.D. has a lot of praise for the Costa Rican healthcare system. "When my partner and I left Texas for Costa Rica, many friends said, 'Well sure, you're not worried about medical care, you're a doctor,'" Arthur says. "To tell the truth, that actually makes me much more critical of the medical care available in other countries.
"Costa Rica has modern, state-of-the-art healthcare available to everyone. We pay $82 a month as a couple for the universal public healthcare system—after that, all care is covered and free.
"If you prefer a second opinion or more immediate care, there's the private system which runs about one third of the U.S. costs. I had a dental crown replaced recently with a new, state of the art zirconia crown—total cost $320. Due to a very complicated prescription, my last set of eyeglasses in the States cost me $1,200. Here I got the same for $420—and it includes a one-year guarantee."
Jackie Minchillo, IL Costa Rica Coastal Correspondent, lives in the beach town of Tamarindo, on the Pacific coast. She enjoys the choice of medical options available in Costa Rica.
"My experiences with the doctors since moving to Costa Rica have continually, pleasantly surprised me. There's a wide array of options to combine the public healthcare system with private options once you're a resident. And even before you are a resident, access to private healthcare is high quality and affordable to pay for out of your pocket.
"I had bronchitis just before the holidays last year. I walked into a private clinic with no appointment and was seen right away. I paid $80, which covered my visit and the prescribed antibiotics and I was back home resting within an hour.
"Another thing that I really love has been the access to variety of alternative healthcare practitioners that seem to flock to Costa Rica. I work out a lot and I've found incredible sports massage therapists who offer deep tissue massages for $40 per hour. In the States, I could never see a reputable traditional physical therapist or masseuse for muscle soreness or sports injuries for that price."
2.Malaysia
Malaysia attracts many retires for affordable, high-quality healthcare. All the doctors speak English and most were trained in the UK, U.S., or Australia so they are familiar with Western standards of care.
Many of the hospitals in Kuala Lumpur and Penang are Joint Commission International accredited, meaning that they are considered to meet the gold standard in healthcare throughout the globe.
Malaysia is second from the top in the Healthcare category with a score of 94.
Penang offers a world-class medical care, which expat Larry John experienced when he suffered a frozen shoulder. "I was unable to rotate my arm without feeling incredible pain," says John. "In Canada, it would take at least three months to see a specialist."
But in Penang he walked into the hospital and saw one. After the initial exam, he made an appointment with an orthopedic surgeon, who diagnosed the problem as a frozen shoulder.
"At 7 a.m. the next morning, I checked in for out-patient care and was put under general anesthesia, while the surgeon rotated the arm to loosen the frozen ligaments. The procedure itself took only minutes and I was very impressed with all the staff and the doctor from the time of check-in to check-out."
In two days, Mr. John resolved the issue without surgery and the total cost was just $1,167. To aid in the healing process, he went to a local physucal therapist for a couple of hours of therapy and home exercises. Each session was only $14 to $16.
3.Colombia
Many retirees have been drawn to Colombia's top-class healthcare with five of Colombia's hospitals being JCI accredited, the gold standard in world healthcare.
There are many excellent hospitals and clinics all around Colombia which offer services from routine office visits and testing, to complex procedures such as joint replacements, organ transplants, ICU services, and cancer treatment—bringing Colombia into third place with a score of 93.
"As a retired healthcare executive, I know what I'm talking about when I say that the quality of care for expats in Colombia is excellent," says International Living's Colombia Correspondent, Nancy Kiernan.
Kiernan lives in Medellin with her husband Mike and says, "I have had laboratory tests, a mammogram, tests for cervical cancer, and a biopsy. In each case, the process was quick, the facilities were state-of-the-art, and most of the results were available online within a day or two."
These sentiments are shared by Curt Noe, a retired traffic engineer from New Jersey, who moved to Medellín in 2007. "I arrived with a pre-existing condition of cancer," he states. "I expected to have a problem getting health insurance here and was pleasantly surprised that I was completely covered by the national health plan (EPS) after only a six-month waiting period."
During his first few years in Medellín, Curt flew back to the U.S. for second opinions and follow-up appointments. "I realized I didn't need to spend the money to do that, after my U.S. doctors said that the care I am receiving in Medellín is on par with what they would do."
(Mexico and Panama are tied for fourth place in the Annual Global Retirement Index 2018 Healthcare Category with a score of 90.)
4. Mexico(Tie)
In Mexico, every medium to large city has at least one first-rate hospital. And a big plus, most doctors and dentists in Mexico received at least part of their training in the U.S.
"When I moved to Mexico, one piece of emotional baggage I left behind in the U.S. was worry over the cost of healthcare," says International Living 's Mexico Editor, Glynna Prentice.
"In Mexico, I have access to two affordable healthcare systems: public and private. In Mexico's private healthcare system, costs—pretty much across the board—run 25% to 50% of U.S. costs for comparable services. And as a legal resident in Mexico, I also have access to Mexico's public healthcare system, which runs most people around $300 to $400 or so a year—or less," says Prentice, one of an estimated 1 million Americans now living in Mexico.
She's not alone in finding good healthcare in Mexico.
Expat Kate Barron, who lives in Mérida, Mexico says that she visited one of the city's top allergy specialists. "He was great, on time, and cheap," she says. The cost: about $35. For quick treatment of minor ailments, you can also get a walk-in appointment with doctors on staff at discount pharmacies."
4. Panama(Tie)
Panama provides good quality, affordable healthcare with clinics and hospitals tactically located in hubs across the country. And since the country is so small, it's unlikely retirees will be more than an hour from a modern facility.
"I've been in Panama for over 10 years now and sometimes I forget just how good we have it until I go back to the States and see some of the prices," says Jessica Ramesch, International Living Panama Editor.
"Though of course costs go up over time—everywhere—I am still spending around 50% less on doctor's consults and dental appointments than my friends back in the States. Recently, my dentist spent two and a half hours with me and charged me just $50. I got a filling replaced and she x-rayed it afterward to make sure everything looked good. We chatted for a good 20 minutes afterward, as well. That's how people are here. Providers spend time with you, give you their cell phone number…often they become friends."
Maine-native Katherine Gallimore speaks just as highly of the healthcare offered in Panama. "I had surgery not long ago with an ENT (ear, nose, and throat) doctor. The care and service were excellent and my out-of-pocket cost was only $900. And, as usual, the doctor gave me her personal cell phone number in case I needed to reach her."
More details on the top five countries in the Healthcare category of the Annual Global Retirement Index 2018 can be found here: 5 Countries with the Best Healthcare in the World
Editor's Note: Members of the media have permission to republish the article linked above once credit is given to InternationalLiving.com.
Further information, as well as interviews with expert authors for radio, TV or print, is available on request. Photos are also available.
For information about InternationalLiving.com content republishing, source material or to book an interview with one of our experts, contact PR Managing Editor, Marita Kelly, +001 667 312 3532, mkelly@internationalliving.com
Twitter: @inliving
Facebook: https://www.facebook.com/International.Living/
About International Living
For 37 years, InternationalLiving.com has been the leading authority for anyone looking for global retirement or relocation opportunities. Through its monthly magazine and related e-letters, extensive website, podcasts, online bookstore, and events held around the world, InternationalLiving.com provides information and services to help its readers live better, travel farther, have more fun, save more money, and find better business opportunities when they expand their world beyond their own shores. InternationalLiving.com has more than 200 correspondents traveling the globe, investigating the best opportunities for travel, retirement, real estate, and investment.