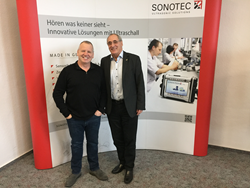 The great news is that these Partial Discharge test equipment packages go together with the new IRISS Maintenance Inspection Systems with embedded Partial Discharge Sensors that allow users to perform visual, infrared, ultraviolet and now airborne ultrasound inspection of their critical assets
BRADENTON, Fla. (PRWEB) February 01, 2018
IRISS Inc. and SONOTEC US Inc., two world leaders in their respective industries join in a partnership. IRISS is a world leader in the manufacturing and supply of Maintenance Inspection Systems and Asset Surveillance Technologies and SONOTEC is a world leader in manufacturing of handheld ultrasound test equipment. The relationship between IRISS and SONOTEC began last year and has grown to be very successful. IRISS and SONOTEC have now announced that IRISS will be the Master Distributor for SONOTEC handheld ultrasound equipment for North America, South America (excluding Brazil) and the Caribbean. In addition, IRISS will provide calibration and repair services on SONOTEC products in the region.
According to Hans-Joachim Münch, Managing Director for SONOTEC, "There is a perfect match of SONOTEC hardware, the latest ultrasonic test equipment, and the electrical safety and electrical inspection professionalism of IRISS. Both companies see a large potential for growth and an added value for our customers."
IRISS will offer the full range of SONOTEC handheld ultrasound test equipment including the SONAPHONE E, an ex-certified system, and the state-of-the-art SONAHONE III. IRISS will continue to sell the entry level SONUS XT product under the IRISS brand name and the SONUS PD product (for TEV / PD detection) also under the IRISS brand name. "The great news is that these Partial Discharge test equipment packages go together with the new IRISS Maintenance Inspection Systems with embedded Partial Discharge Sensors that allow users to perform visual, infrared, ultraviolet and now airborne ultrasound inspection of their critical assets" explains Martin Robinson, President & CEO of IRISS.
Sonotec US Inc, is a daughter company of SONOTEC Ultraschallsensorik Halle GmbH located in Germany. Founded in 1991, nowadays SONOTEC GmbH is a leading specialist in ultrasonic measurement technology solutions. With more than 150 employees, the technology company based in Halle (Saale) in the heart of Germany develops and manufactures customer-specific ultrasonic transducers and sensors as well as testing equipment and measuring technology solutions for a wide variety of industries. These range from medical technology and the chemical and pharmaceutical industries to engineering and plant construction and non-destructive testing.
IRISS is the global leader in Electrical Maintenance Safety Devices & Solutions. IRISS helps customer's in reducing downtime related costs & maximize efficiency by reducing inspection times. EMSD's warn you of potential equipment failures before they occur, maintain the energized compartment's closed, safe and guarded condition ensuring workers are never exposed to the dangers of Arc Flash or electrocution, and automate asset inspection data collection process driving more efficiency improvements. The IRISS EMSD solutions reduce risk, minimize cost and maximize efficiency.