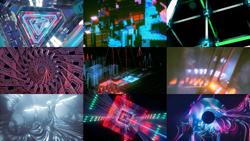 "Cinema 4D really has been the backbone of almost all of the work that I do both with 'everydays' and with the motion work that I do. The software has such flexibility and I can always find a way to work it into my workflow, says Mike Winkelmann aka Beeple.
NEWBURY PARK, N.Y. (PRWEB) January 30, 2018
MAXON is excited to announce the incredible work of 3D artist Mike Winkelmann, best known in the creative community the world over as Beeple, and one of the foremost users of the company's Cinema 4D software application, will be on display at "Crap: A Beeple Retrospective." Presented by the Made in NY Media Center by IFP gallery in DUMBO, Brooklyn, New York City, the show takes place February 1 – 28; opening reception February 1 from 6:00 p.m. – 8:00 p.m. (Watch promotional video to event featuring Winkelmann's assets here). The exhibition features the extensive body of motion graphics work and VJ clips Winkelmann has created the past decade and a half for some of the worlds most prolific electronic musicians including deadmau5, Skrillex, Avicii, Zedd, Taio Cruz, Tiësto, Amon Tobin, Wolfgang Gartner, and Flying Lotus, and many others.
Winkelmann is a graphic designer from Appleton, Wisconsin who says, "…he makes a variety of art crap across a variety of media..." (source Beeple.com) His short films have screened at Miami Art Basel, onedotzero, Prix Ars Electronica, the Sydney Biennale, Ann Arbor Film Festival, and many others. For over the past ten-and-a-half years, Winkelmann has earned a global reputation not only for his creative prowess and his body of work created with Cinema 4D, but for originating the concept of "everydays", where he crafts a new piece of art every day – start to finish. He then makes his project files freely available for the art community to dissect and learn. Sometimes the asset gets put into a video or short film, other times it is created just for the sake of sharpening his craft. Under the Creative Commons license Winkelmann also makes available his VJ clips for both commercial and non-commercial work in any form.
Thomas Rotenberg, digital media and gallery manager at Made in NY Media Center by IFP and curator of "Crap: A Beeple Retrospective", has been a long time fan of Winkelmann's work and explains that after 'playing around' with Cinema 4D, came to respect his skill even more. He eventually pitched Winkelmann on a show that would take advantage of the Media Center's gallery space and recontextualize his work in a more formal setting.
"There's a big difference between seeing Mike's work as part of a VJ set and seeing it in a gallery setting, and I hope that the latter forces more casual viewers to see the incredible artistry that he puts forth in every piece," says Rotenberg. "Mike's work is relevant to the entire art world – not only is he pushing technique forward in ways most people could've never imagined -- he's changing the way art is distributed by breaking down the traditional channels and giving it all away for free. Mike is one of the most important creators working today and it's important for his work to be viewed in a way that presents the full scope of his technical and creative evolution."
"Cinema 4D really has been the backbone of almost all of the work that I do both with 'everydays' and with the motion work that I do," says Winkelmann. "The software has such flexibility and works with so many other programs that anytime something new comes along, I can always find a way to work it into my existing workflow without a huge disruption. It's been amazing to see the progression over the years and I can't imagine working without it."
Paul Babb, president and CEO of MAXON US, states Winkelmann's commitment to sharing creative content and knowledge is synonymous with MAXON's focus on cultivating a worldwide creative community.
"We're delighted Mike's prolific talents and contributions to the art of design will be celebrated at "Crap: A Beeple Retrospective," said Babb. "We appreciate that he so freely continues to empower and inspire others. Attendees should expect to have their "minds blown" if only by the sheer volume of his work."
For additional details on "Crap: A Beeple Retrospective and the opening reception, visit the Made in NY Media Center BY IFP event page here.
Additional details on Beeple are available at the artist's website here.
About MAXON
Headquartered in Friedrichsdorf, Germany, MAXON Computer is a developer of professional 3D modeling, painting, animation and rendering solutions. Its award-winning Cinema 4D and BodyPaint 3D software products have been used extensively to help create everything from stunning visual effects in top feature films, TV shows and commercials, cutting-edge game cinematics for AAA games, as well for medical illustration, architectural and industrial design applications. MAXON has offices in Germany, USA, United Kingdom, Canada, France, Japan and Singapore. MAXON products are available directly from the web site and its worldwide distribution channel. MAXON is part of the Nemetschek Group.
Additional information on MAXON can be obtained as follows:
Website: http://www.maxon.net/
Cineversity: http://www.cineversity.com/
Facebook: https://www.facebook.com/maxon3d
Twitter: https://twitter.com/maxon3D
YouTube: https://www.youtube.com/user/MaxonC4D
LinkedIn: https://www.linkedin.com/company/791366
Google+: https://plus.google.com/+maxoncinema4d/posts
Instagram: https://www.instagram.com/maxonc4d/
All trademarks contained herein are the property of their respective owners.
# # #