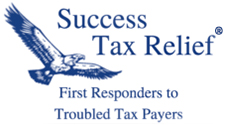 Success Tax Relief clients can expect to be treated with courtesy.
ATLANTA (PRWEB) January 31, 2018
Success Tax Relief, a tax relief firm based aimed at relieving taxpayer's debt based near Houston, Texas is proud to announce its newest location in Atlanta, Georgia.
"We've been receiving an overwhelming response in the Houston area," CEO Deaphalis Sample said. "We're helping everyone, but we especially want to assist the areas who are requesting our services the most."
Sample stated that the majority of the work is still being done at their flagship office in Texas, but now Atlanta residents have the opportunity to receive a more personalized consultation service when it comes to alleviating any tax debt they might have.
"Success Tax Relief clients can expect to be treated with courtesy," Sample continued. "I give people a real reality check. I don't paint the 'pie-in-the-sky' scenario and try to sell you a dream, because it's not ethical to make promises you can't keep."
Clients who look to Success Tax Relief for tax debt help will get representation, protection, and relief. They can expect to get solid information and the education needed in order to move forward financially.
Success Tax Relief takes pride in their open door policy. The service is mobile. If you can't come to them, and if you're in a 100-150 mile radius within their Georgia or Texas office, a representative will come to you. Clients will be able to reach a Success Tax Relief consultant after hours and on the weekends. They can expect to get a response within 30 minutes of inquiry.
Success Tax Relief specializes in:

Audits
Tax Preparation
Offer in Compromise
Installment Agreements
And more!
Sample hinted toward expanding in other possible locations like Baltimore and the Philadelphia area.
CONTACT:
Deaphalis Sample
Success Tax Relief
5665 New Northside Drive #260
Atlanta, Georgia 30328
successtaxrelief.com
877-825-1179