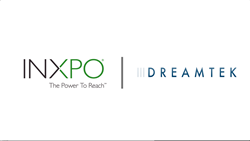 CHICAGO (PRWEB) January 31, 2018
INXPO and Dreamtek announce their partnership integrating INXPO STUDIO, the leading HTML5 streaming platform, and Dreamtek's Broadcastpods for a video broadcast solution that allows you to go live at any time.
The integration offers the best fully-automated, self-contained broadcast environment through the Broadcastpod, combined with INXPO's cloud technology to stream live to webcasts, social and OTT channels.
Through this partnership, the two companies expand their global video production services, and continue to work with clients across all industries by putting the power of video into the hands of the presenter, for authentic communication.
"We believe our shared passion for video will simplify enterprises' adoption into everyday communication and marketing strategies, making modern enterprise communication more impactful for both internal and external audiences," Victoria Neeson, Dreamtek CEO said.
Watch the partnership video with Neeson and INXPO CRO, Daniel Lotzof, for more information on the integration benefits and industry impact.