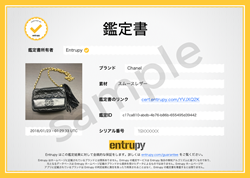 Over time, we've seen the rise of opaque supply chains, and when combined with the less-personal nature of online transactions, it's an environment that has benefited counterfeiters while eroding consumer trust. This is the problem we're committed to solving
New York and Tokyo (PRWEB) January 31, 2018
Today, Entrupy, a hardware-enabled SaaS company with artificial intelligence-based technology for authenticating high-end luxury goods, announced the expansion of their global operations to Japan. With a physical presence in Tokyo, the company is positioned to deter the distribution of counterfeit products and enhance trust in online transactions of high-value goods in the country, currently among the largest markets for luxury resale. The new location also provides Entrupy with an entry point into the Asia-Pacific region, placing the company closer to known regional hubs for counterfeit manufacturing.
Created by a team of technologists and academics, Entrupy's scalable, affordable solution uses deep learning algorithms and a proprietary database containing millions of microscopic images to verify the authenticity of physical products. With each product that is scanned and evaluated using Entrupy's hand-held scanner and accompanying software application, the system "learns" and becomes increasingly accurate. It is the first commercially available technology-driven solution to a problem that is typically addressed using manual and subjective processes. The company guarantees the veracity of its findings with the Entrupy Certificate of Authenticity, backed by a financial guarantee.
Launched in 2016, Entrupy's patented technology is currently used by hundreds of secondary retailers and marketplaces to authenticate handbags and accessories from 15 luxury brands including Louis Vuitton, Chanel and Hermès, and to date, Entrupy has authenticated over $30 million worth of customer inventory. The company is currently developing databases and software that will enable verification of other frequently-counterfeited products.
"The growth of global commerce is a wonderful thing, but it's not without side effects. Over time, we've seen the rise of opaque supply chains, and when combined with the less-personal nature of online transactions, it's an environment that has benefited counterfeiters while eroding consumer trust. This is the problem we're committed to solving," stated Vidyuth Srinivasan, co-founder and CEO of Entrupy.
Entrupy's Japanese operations will be led by Noriko Asaoka, a Stanford-educated Japanese national whose vast experience includes launching Etsy in the local market. Prior to Etsy, Asaoka led the music and video business for Amazon Japan. In her new role, she is responsible for building local operations including establishing partnerships and managing client relations throughout the region.
"The Japanese luxury resale industry is one very much committed to quality and authenticity. With Entrupy, we are offering resellers a new and scalable solution, particularly helpful when the human talent needed to spot counterfeits is difficult to secure," commented Asaoka. "And the market has been quick to respond, as we are already working with a variety of e-commerce companies, as well as C2C marketplaces, major resellers and professional buyers of luxury goods. We're confident that, together, we will build a world where consumers can shop with peace of mind."
All product and company names are trademarks™ or registered® trademarks of their respective holders. Use of them does not imply any affiliation with or endorsement by them.
About Entrupy
Entrupy is a hardware-enabled SaaS company that uses computer vision algorithms and microscopy to bring trust to transactions of high-value physical goods. Currently in use by hundreds of secondary resellers and marketplaces worldwide, Entrupy provides the first scalable technology capable of authenticating luxury products from brands such as Louis Vuitton, Chanel and Hermès, among others. The service launched in 2016, following four years of research led by Ashlesh Sharma, Vidyuth Srinivasan and Lakshminarayanan Subramanian, Professor at New York University. Investors include DG Lab Fund, deep learning pioneer and Facebook AI Research (FAIR) director, Yann LeCun, serial entrepreneur and investor Zach Coelius, cloud computing pioneer and Google VP of Infrastructure Eric Brewer, and Japanese venture capital firm, Accord Ventures. The company is privately held and based in New York City. For more information, visit http://www.entrupy.com.