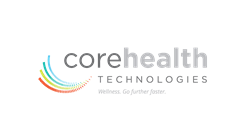 The wellness industry will implement artificial intelligence and machine learning to better evaluate data with the ultimate goal to help people realize how wellness programs are helping them succeed with their health goals.
KELOWNA, British Columbia (PRWEB) January 31, 2018
Ambitious goals of improved health and wellness are top priority for North Americans as we begin the New Year. The good news is more employers are realizing the role they can and should play in improving their employees' health and well-being. Helping employees to achieve their health goals requires ongoing creativity and innovation to be successful.
A growing body of research shows that a workplace of healthy, happy employees boosts productivity and contributes to its overall success. According to Anne Marie Kirby, founder and CEO of CoreHealth Technologies, a leading corporate wellness platform trusted by more than 1,000 organizations, ranging from medium-sized businesses to Fortune 500 enterprises, "The most successful wellness programs are at those companies making a concerted effort to stay ahead of the curve. These companies continue to evolve their wellness programs to support their employee's goals and aid in retention efforts."
"Like any industry, wellness needs to constantly be changing and innovating to deliver better results and increase engagement," says Kirby. However, one of the unique challenges with the wellness industry is the illogical nature of prevention within the healthcare industry, as it's difficult to measure a return on investment for events that don't take place. Worse yet, well people circumvent revenue accruals. "Fortunately, we are starting to see a change with employers focusing on prevention and are waiting for the healthcare system to follow suit," Kirby asserts.
This key mind shift is an important driver and an underlying principle of successful wellness programs. Following are Kirby's five predictions that will drive wellness innovation in 2018:
1. Greater Senior Management Involvement in Wellness Programs
Senior Management will realize their involvement and support in wellness programs is vital to employee engagement and other results, such as performance in the workplace. Further, senior management will focus less on ROI and more on actions taken to make their program successful. Kirby points to the occupational health and safety industry as an example of an industry that has taken this approach. "You will never hear a manufacturing leader say after a workplace accident that their occupational safety program isn't working. Rather, they will examine the actions they took to implement their programs instead of the results, and evaluate its success from this perspective." In line with greater involvement, senior leadership, particularly in companies with a global presence, as well as government and banks, will continue to focus on assuring privacy and security with employee's personal information.
2. More Sophisticated Technology to Illustrate Metrics
Companies will implement more sophisticated technology to illustrate performance and progress metrics. "These tools will be key in eventually achieving return-on-investment, and the benefits of wellness programs resulting in less absenteeism and presenteeism by employees, will become clearer," says Kirby. Also, Kirby predicts the metrics will grow from those that are currently performance and productivity-based to include new metrics such as employee happiness and job satisfaction, and whether they would recommend their company to their friends.
3. Increased Use of Gamification and Social Engagement
Engagement tools such as Gamification and social networking will increase as they provide the key elements for employees to feel success with their wellness programs. Having a "purpose" will continue to be the main driver in wellness programs with an increased focus on games and peer support to engage participants and help them find their purpose. "My prediction is that there will be a more personalized approach to what drives employees to succeed, similar to those in games: like a sense of community, and tapping into a social connection, or personal goals," says Kirby.
4. Implementation of Tools to "Personalize" Wellness and Motivate Participation according to Personal Drivers
Greater personalization will be necessary to drive more successful employee wellness programs. Marketers have been using consumer segmentation models (also known as psychographics) for years to help track buying behavior and shape the customer experience. The same approach to classification of people - based on their personality, values and lifestyle - is also increasingly popular in the health care and benefits industries as a way to influence and motivate both patients and employees.
PatientBond's psychographics model identifies five main health personality segments in which employees can be categorized: Self-achievers, Balance seekers, Priority jugglers, Direction takers and Willful endurers. "These categories are then used by organizations to increase response rates to benefit surveys, as well as enrollment into under-utilized plans such as HDHP, telehealth and onsite or near-site clinics, by tailoring the messaging with the language each of these health personality segments want to hear. For wellness programs, the notifications about the program features can be custom developed according to their individual preferences or triggers," says Kirby. CoreHealth has partnered with PatientBond to incorporate their psychographic model into corporate wellness programs to encourage employee behavior change.
5. An evolution of intelligence and machine learning
"Like other industries, wellness will implement artificial intelligence and machine learning to evaluate data with the ultimate goal being to help people realize how wellness programs are helping them succeed in their health goals," says Kirby. "I see a greater role of artificial intelligence being used to make conclusions on the data." Kirby predicts that wearables will "not die" and will continue to become more sophisticated. For example, wearables may soon be able to monitor health functions such as metabolism which can tell people whether eating a banana will continue their fat burning mode, or put them into a fat gain mode. This will obviously help with engagement.
Beyond these predictions, Kirby believes the most important factor to ensure a wellness program's success is to be able to adapt to changes within the wellness industry, technology industry and market. And if Kirby's predictions come true, there will be a lot of change coming within the wellness industry, all with a very positive outcome for employees.
Listen to the National Wellness Institute podcast and their interview with Anne Marie Kirby discussing the latest in health and wellness innovations.
About CoreHealth Technologies
CoreHealth Technologies Inc. is the leading corporate wellness platform trusted by wellness providers for 2+ million employees worldwide. At CoreHealth, we believe that developing the best employee wellness programs is all about giving wellness companies the right code, design and access to the latest innovations. With the most customization, integrations and reliability of any software in its class, CoreHealth's powerful platform lets users focus on growing great companies. For more information, visit the CoreHealth website or their Workplace Wellness Blog.