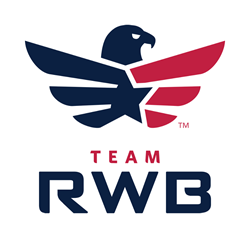 As veterans leave active military life, it's truly special to have organizations like Team RWB to help them move through that difficult transition, and it's an honor to support them this month. - Alan Cole, GovX CEO
SAN DIEGO (PRWEB) February 01, 2018
GovX, the online shopping site exclusively for current and former military and first responders, selected Team Red, White & Blue as the newest recipient of the Mission Giveback donation program. Each month, GovX chooses a new, service-related foundation performing work in the military, first responder, or law enforcement communities and donates a portion of proceeds from orders placed during the given month. Team RWB will receive a donation based on orders placed during the month of February.
With over 200 chapters nationwide and over 130,000 members, Team RWB is one of the fastest growing veterans' organizations in the country. The organization's goal is to enrich the lives of American military veterans by connecting them to their communities through physical, social, and volunteer activity.
Team RWB seeks to reinvigorate the sense of community and camaraderie that many veterans lose when they leave active duty or return home from deployments. Through consistent and inclusive activities, whether it's a run, functional fitness workout, biking, yoga class, community service, or a meet up over coffee, Team RWB's activities facilitate veteran engagement that result in genuine relationships and connectedness with each other which assists them in transitioning back into private life as civilians. Team RWB does this through two unique programs, the Chapter and Community Program (CCP) and the Eagle Leadership Development Program (ELDP). The CCP delivers consistent, local opportunities for veterans and the community to connect through physical and social activity. Chapters host weekly fitness activities, monthly socials and volunteer service projects. The ELDP enables the strengthening of veterans by refining leadership skills learned while in the military through experience, education and mentorship.
"Team Red White & Blue is a vibrant, constant presence here in the San Diego community and across the country," said Alan Cole, GovX CEO. "As veterans leave active military life, it's truly special to have organizations like Team RWB to help them move through that difficult transition, and it's an honor to support them this month."
Approximately 30% of Team RWB members are civilians, reducing the divide that exists between the military and the public whom they serve. Team RWB chapters and events seek to establish dialogue and interaction between veterans and civilians to find common ground.
Team RWB's national events include Run As One, 4th of July Eagle Charge, the cross-country, flag-carrying Old Glory Relay, and the Veteran's Day WOD for Warriors.
"Team RWB is honored to have been chosen by GovX as the February Mission Giveback recipient," said Team RWB Director of Development Megan King. "It is evident that GovX genuinely cares for our uniformed members and their families, through the integrity of products and services on their website and their generosity in supporting VSOs and first responder non-profits. We are grateful to GovX and their member community for helping Team RWB further improve the lives of our veterans."
Sign up here to become a member of Team RWB.
To find a Team RWB chapter located near you, click here.
About GovX:
GovX.com is for men and women of service. A members-only online destination for military, first responders, and government employees, the site offers thousands of products, tickets and experiences from hundreds of brands at members-only pricing. GovX members include active and veteran U.S. military, firefighters, law enforcement officers, federal agents, and personnel from related government agencies. For more information, visit GovX.com.