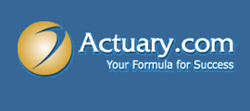 The economy slowed in December, adding fewer jobs than November's gain of 252,000 jobs and October's gain of 211,000 jobs
ATLANTA (PRWEB) January 31, 2018
The US economy added 148,000 jobs in December, according to preliminary numbers released by the U.S. Bureau of Labor Statistics' Economic Situation Report released on Friday, January 5, 2018.
"The economy slowed in December, adding fewer jobs than November's gain of 252,000 jobs and October's gain of 211,000 jobs," said Jay Rollins, owner of Actuary.com, a leading career website specializing in actuary job postings. "Payroll employment growth totaled 2.1 million in 2017, compared with a gain of 2.2 million in 2016."
The unemployment rate now sits 4.1 percent for the third consecutive month, while the number of unemployed persons remained unchanged at 6.6 million. In 2017, the unemployment rate and the number of unemployed persons dropped by 0.6 percentage point and 926,000, respectively.
Employment gains for December mostly occurred in health care (+31,000 jobs), construction (+30,000 jobs), and manufacturing (+25,000 jobs). Employment in other major industries changed little over the month, including mining, wholesale trade, transportation and warehousing, information, financial activities, and government.
Total nonfarm payroll employment was revised in October, dropping from 244,000 to 211,000, and November, increasing from 228,000 to 252,000. With these revisions, employment gains in October and November combined were 9,000 less than previously reported. After revisions, job gains have averaged 204,000 over the last three months.
About Actuary.com:
Actuary.com is the leading employment website for actuarial professionals. Actuary.com is updated daily with thousands of job listings. Users can create a profile, upload their resume, apply for positions and engage in our social communities. Employers can post job listings opportunities and browse a resume bank for applicants. Thousands of new jobs are listed each month by geographic location and specialty, including casualty actuarial jobs, health actuarial jobs, consulting actuarial jobs, and more.