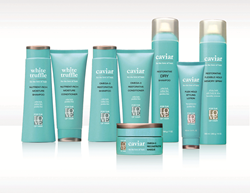 We saw an opportunity for innovation – not limited to the luxury formulas used in these products, but also innovation in the high-end packaging being sold at a reasonable price-point along with the delivery system of readily-available sample packets, to get people acquainted with the products
Calabasas, CA (PRWEB) February 01, 2018
New, trailblazing hair care line, For the Love of Hair™ (http://www.fortheloveofhair.com), has officially announced the conclusion of its exclusive retail debut with Bed Bath & Beyond and subsidiary, Harmon Face Values: the limited engagement retail deal, which started with the brand's launch in May 2017, ended as of December 31, 2017, making the luxury grooming product line available to other food, drug and mass market retailers.
Caviar and White Truffle "For the Love of Hair"™ is a salon-quality hair care line currently comprised of eight SKUs, marketed in two product segments based on the high-end main ingredients, White Truffle and Caviar. The brand, which went through two and a half years of product development prior to its early 2017 launch, focuses on custom packaging and premium ingredients, kept approachable to the consumer via competitive price-points and trial size packets which allow the consumer to sample the products before committing to a full-price purchase.
For the Love of Hair™ products currently on the market include color-safe, paraben-free and sulfate-free White Truffle Nutrient-Rich Moisture Shampoo, White Truffle Nutrient-Rich Moisture Conditioner, Caviar Omega-3 Restorative Shampoo, Caviar Omega-3 Restorative Conditioner, Caviar Omega-3 Reconstructive Masque, Caviar Restorative Dry Shampoo, Caviar Flex Hold Styling Lotion, and Caviar Restorative Flexible Hold Memory Spray. In April 2018, the brand will launch a Caviar Curl line of products, effectively raising their product line-up to 16 SKUs.
For the Love of Hair™ is a registered trademark of Calabasas Beauty Group LLC, which is headquartered in the affluent northern Los Angeles County town of Calabasas – also home to a number of celebrities. Calabasas Beauty Group is a privately-held boutique consumer products company focused on "creating and delivering high-end hair care products that deliver results". The company was founded in 2014 by two industry executives with vast experience in the hair and beauty industry, who are committed to delivering unique beauty products aimed at meeting the needs of a demanding and savvy consumer.
Made in the USA, and not tested on animals, Caviar and White Truffle For the Love of Hair™ products have sleek packaging and sophisticated scents. The Caviar products are infused with Caviar Oil, a nutrient-rich source of Omega-3 fatty acids, which help to restore and replenish hair leaving it youthful and resilient, with added shine and body. The company's White Truffle products, which combine White Truffle extract, lavender extract, rosemary, quinoa, hemp oil and green tea extract, moisturize and add luster and manageability to hair.
The full-size For the Love of Hair™ products, ranging from 3.4 to 10.1 fluid ounces, currently retail for $9.99 each, while the .35 fl. oz. trial-size packets currently retail for $1.99 each.
"We saw an opportunity for innovation – not limited to the luxury formulas used in these products, but also innovation in the high-end packaging being sold at a reasonable price-point along with the delivery system of readily-available sample packets, to get people acquainted with the products. We were very impressed with the merchandising and go-to-market excellence of Bed Bath & Beyond and Harmon," said Frank Loffa, Co-Founder of Calabasas Beauty Group, For the Love of Hair's creator.
During his lengthy health and beauty industry career, Loffa was President/CEO of Newhall Laboratories, EVP/General Manager of Universal Group, a licensee of P&G, and founder of Enormarel Cosmetics and the Petal Fresh line of skin care products. Loffa also spent 14 years with St. Ives Laboratories, where he was VP North America at the time of the company's sale to Alberto-Culver. Loffa also worked for Alberto-Culver, Johnson & Johnson and Ralston Purina.
Robb Weinstein, Co-Founder of Calabasas Beauty Group, states that, "Health and beauty are in my DNA". Weinstein was raised and groomed in the family-owned business Levlad, a leader in manufacturing of health and beauty products, with productions for P&G, Bath & Body Works and Proactiv, to name just a few. The family also owned Nature's Gate and Arbonne, two continuously-leading brands. Weinstein was also a Co-Founder of Go Gourmet, a line of flavored butter blends for cooking and spreading.
Loffa continued, "For the Love of Hair products have exceeded our expectations and we are excited to initiate our product launch to the entire food, drug and mass marketplace."
For the Love of Hair™ is currently available through Bed Bath & Beyond and Harmon Face Values, with additional retail outlets to be announced.
More information is available on the For the Love of Hair™ web site: http://www.fortheloveofhair.com. For the Love of Hair is also on Facebook and Instagram (@fortheloveofhairofficial). To reach the company directly, please call 818.744.1756.
For further information about For the Love of Hair, or to request samples for review, please contact Anna Ferguson-Sparks, Stiletto Marketing, at 1.877.327.2656 or info[at]stilettomarketing[dot]com.
###