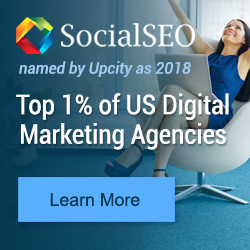 We are honored to be among the Top 1% of the Best Digital Marketing Agencies in the US...
CHICAGO and COLORADO SPRINGS (PRWEB) February 01, 2018
Rated in 18 different areas of business expertise, but with a focus on Search Engine Optimization (SEO), Social Media, Search Engine Marketing (SEM) and digital advertising, these agencies represent the most vetted, very best of the best. SocialSEO's ranking represents the top 50 of nearly 15,000 agencies that are part of the UpCity network. Through its excellence and commitment to working with local and regional companies across the country, SocialSEO has made clear that it stands strong at the top of its field. "We are honored to earn a top spot among the nation's best agencies," said Greg Walthour, CEO of SocialSEO. He added, "We want to thank our employees for their hard work for our clients, UpCity for its efforts to well-define the most worthy agencies and our clients for their faith in us as we work on their behalf."
UpCity has become the most trusted, and most turned to, source for local businesses who are seeking digital marketing agencies to meet their expansion and customer acquisition needs, with over 100,000 businesses across 300+ local US markets turning to UpCity to find fully vetted, high quality agencies like SocialSEO.
"Through their UpCity Ratings, which entail rigorous eligibility and qualification validation in each local market, SocialSEO has shown its ability to do an outstanding job in serving businesses in its local markets," noted Dan Olson, CEO and Founder of UpCity. Olson added, "Small and medium-sized businesses are the backbone of the US economy, and companies like SocialSEO who earned this recognition should be proud of their role in helping business owners succeed and grow."
Meeting virtually any digital marketing needs, agencies in the UpCity network focus on all marketing areas relevant in a fast-changing field. Speaking for the entire UpCity network of agencies, Olson observed, "It's great to be able to help businesses cut through the uncertainty of not knowing who to turn to for work so critical to their business, and help make clear those agencies they should have on their short list as potential partners."
ABOUT SOCIALSEO:
Experts in local, national, enterprise, and ecommerce SEO, social media, and search engine marketing, SocialSEO offers its customers an effective and refreshing approach to digital marketing. The company culture is one of family, where employees are encouraged to foster ideas, and challenged to conduct business with trust, honesty, and integrity, partake in decision and policy making, be solution minded, exhibit positive thinking and energy, and lead by example at every opportunity. Learn more about our Denver SEO, Colorado Springs SEO and Phoenix SEO offices.
ABOUT UPCITY:
UpCity is the leading online marketplace that connects businesses with locally-based, qualified agencies and digital marketing service providers. The company provides a comprehensive directory of trusted marketing service providers in local markets across the United States and Canada, as well as across industry verticals.