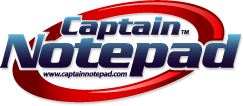 The custom legal pads are great for the home or the office
ENGLEWOOD, Colo. (PRWEB) January 31, 2018
Captain Notepad (http://www.captainnotepad.com), a producer of image personalized calendars, professional notepads, magnetic notepads, and other promotional items, today announced its latest products for 2018, the new notepad and legal pads.
"Our notepads offer clients the versatility and variety that our customers are looking for. Whether you have a small business or a growing real estate business, you know that the power in promotional giveaways is in the details, and Captain Notepad offers just that. We offer unique styles and customization that your customers will love using every day," says Jace Rogat, President at Captain Notepad. Captain Notepad is launching a new product in 2018 that will combine the organization of a journal to the ease of use in a notepad. The new customized notepad offers a fun and unique design with the dependable sticky pad.
Captain Notepad is also excited to announce the popularity of its custom legal pads. "We've seen our legal pads gain popularity this past year and continues to grow into the new year," notes Jace Rogat. He continues, "The legal pads are great for the home or the office. We offer many different sizes that comes in ruled or grid." Through its offering of free design and artwork services, Captain Notepad helps customers create a unique notepad. The company will provide the customer with a mock design based on the customer's requests, then the client together with the design team will make final edits to the shape, size, style, and text. And finally the professional notepad will be ready to print and mailed within a short period of time. Click here to see what other small businesses have done with their professional notepads.
For more information on Captain Notepad's new products and legal pads, contact them at 888-268-7237. "Our affordable customized notepads are the perfect giveaway this season. Take advantage of all of our great savings and options to make a lasting impression on your clients," says Jace Rogat, President at Captain Notepad.
About Captain Notepad (https://www.captainnotepad.com)
Captain Notepad is the leading manufacturer of customized notepads and promotional items specializing in creative solutions to help brand a company's product and grow their business. Through competitive prices and great customer service, Captain Notepad has become the best source for custom notepads. What sets Captain Notepad apart is the short production time including rush production on most of the custom printed notepads.