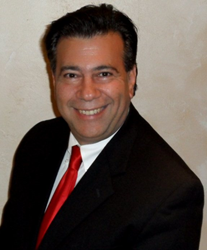 "It is an incredible honor to lead the nation's largest local Realtor association," MIAMI Chairman of the Board George C. Jalil said.
MIAMI (PRWEB) February 01, 2018
The MIAMI Association of REALTORS® (MIAMI) has elected Miami Broker George C. Jalil, RAA, TRC as its 2018 chairman of the board. He and the 2018 MIAMI leadership boards will be installed Feb. 2 at MIAMI's 2018 Inaugural and Awards Celebration.
Jalil, who is the broker president of Real Living First Service Realty, will lead the MIAMI Corporate Board. The board analyzes trends and makes key policy decisions affecting the real estate industry in Miami-Dade, Broward, Palm Beach and Martin counties. MIAMI represents more than 46,000 residential, commercial and international real estate professionals.
"It is an incredible honor to lead the nation's largest local Realtor association," Jalil said. "In 2018, MIAMI Realtors will continue to work to protect homeownership rights, improve communities and benefit consumers. Our priorities in 2018 include market influence, international exposure, increased professionalism and development, young professionals and community initiatives."
Jalil earned his real estate license in 1977 at the age of 21. Two years later, he was the youngest district manager for the largest real estate company in South Florida at the time.
Jalil is designated by the National Association of REALTORS® (NAR) as a residential accredited appraiser He is a state certified residential appraiser approved by the Veterans Administration.
Jalil is a strong proponent of MIAMI's Changing Communities program. In 2017, MIAMI led 11 community initiatives thanks to more than $100,000 in grants from NAR. Last year's initiatives included feeding the homeless, painting commercial buildings in Miami Gardens and creating a new community destination in Miami Shores. MIAMI is planning more community initiatives in 2018.
In addition to his work with MIAMI, Jalil is a Florida Realtors® state director and a member of the Florida Realtors® Honor Society. Jalil and his wife have five children.
Announcing the 2018 MIAMI Corporate Board
Joining Jalil are: Chairman of the Board-Elect José María Serrano, CCIM of New Miami Realty Corp.; 2017 Chairman of the Board Christopher Zoller, CRS of EWM Realty International; Secretary Terri Bersach, CRB, CRS, CIPS, SFR, TRC; Treasurer Jack H. Levine, ABR, ABRM, CRB, CRS, SRES of Levine Realty Inc.; 2018 Commercial President Brian Sharpe of Sharpe Properties Group; 2018 Residential President Jorge L. Guerra, Jr. of Real Estate Sales Force; 2018 Broward President Patricia C. Anglero of Galleria International Realty; 2018 YPN Chairman Jorge H. Fernandez of Caribe Homes Realty; 2018 JTHS-MIAMI President Barb Fox, RSPS, ePRO of One World Realty, Inc.; Commercial President-Elect Jennifer Wollmann, CIPS of EWM Realty International; Residential President-Elect Ines Hegedus-Garcia of Related ISG International Realty; Broward President-Elect Jonathan Keith of Coldwell Banker Residential Real Estate; YPN Chairman-Elect Wesley Ulloa, CLHMS of LUXE Properties; JTHS-MIAMI President-Elect Kim Price, CIPS of Jupiter Lighthouse Realty; Director David Abernathy of Waterfront Properties & Club; Director John Dohm, CIOR, CCIM, CFP of Infinity Commercial Real Estate; Director Mark Sadek of The Keyes Company, Inc.; Director Donna Reid, AHWD of Coldwell Banker Residential Real Estate; Director Ron Shuffield of EWM Realty International.
Teresa King Kinney, CAE, CIPS, GRI, RCE, TRC serves as the CEO for the MIAMI Association of REALTORS®.
About the MIAMI Association of REALTORS®
The MIAMI Association of REALTORS® was chartered by the National Association of Realtors in 1920 and is celebrating 98 years of service to Realtors, the buying and selling public, and the communities in South Florida. Comprised of six organizations, the Residential Association, the Realtors Commercial Alliance, the Broward Council, the Jupiter Tequesta Hobe Sound (JTHS-MIAMI) Council, the Young Professionals Network (YPN) Council and the award-winning International Council, it represents more than 46,000 real estate professionals in all aspects of real estate sales, marketing, and brokerage. It is the largest local Realtor association in the U.S., and has official partnerships with 167 international organizations worldwide. MIAMI's official website is http://www.MiamiRealtors.com