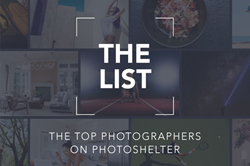 NEW YORK (PRWEB) February 02, 2018
PhotoShelter (http://www.photoshelter.com), the leading digital asset management platform for visual storytellers, reveals winners of The List, an exclusive selection of the top photographers on PhotoShelter. These finalists were chosen from over 80,000 visual storytellers who use PhotoShelter every day to manage their image archives, display and share their work. See the 90 finalists who made the cut and get inspired by their exceptional photography: http://bit.ly/2FyiHEd
This final list, plus an in-depth lookbook featuring each photographer, will be sent to thousands of creative directors, marketers and social media managers in the Libris by PhotoShelter community. Today, over 700 notable brands and organizations in the sports, retail, travel, media, and nonprofit industries rely on Libris to manage and distribute their visual assets.
"The single biggest factor in a brand's ability to engage an audience is the strength of its visual storytelling," said Andrew Fingerman, CEO of PhotoShelter. "We have a unique opportunity to help drive that success by connecting content hungry brands with the exceptionally talented creators who use our professional photographer tools. It's a new experiment in bringing each of our member communities together."
A panel of judges, including Melissa Lyttle of the National Press Photographers Association, Alison Zavos of Feature Shoot, Clinton Cargill of Bloomberg Businessweek, Brian Cason of Moment, and Kari Anderson of Glasshouse Assignment, helped select photographers who applied for The List back in Fall 2017. Their decisions were based on three pieces of criteria: a superior portfolio, excellent photography, and a convincing pitch to potential clients.
The 90 finalists span across 18 major photo categories, including photojournalism, food, lifestyle, travel and sports.
For additional exposure, photographers will also be featured on PhotoShelter's Instagram account throughout 2018.
About PhotoShelter
PhotoShelter's mission is to empower the effortless creation of visual stories. We offer a unified platform of technology, tools, and insights that help more than 80,000 professional photographers and 700 brands manage their visual media every day. PhotoShelter accomplishes this through two solutions: PhotoShelter for photographers and Libris for brands.
In 2005, PhotoShelter pioneered the first cloud-based product for professional photographers to showcase, archive and sell their work. It offers beautiful websites, secure storage, plus over 100 features to help photographers take their businesses to the next level. PhotoShelter's product for creative teams inside brands, Libris, is the simplest and fastest digital asset management platform built for visual media. With Libris, creative teams have easy access to photos and videos so they can engage their audiences anytime, anywhere. Libris is used by hundreds of top brands across industries, including: Delta, PBS, Baltimore Ravens, Atlanta Braves, Sacramento Kings, Pandora, Chick-fil-A, and the Associated Press.