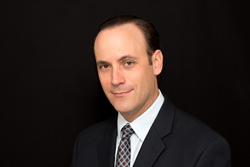 "Now more than ever, South Florida has become the place to live, play, and invest," 2018 MIAMI Commercial President Brian Sharpe said.
Miami, FL (PRWEB) February 06, 2018
The Realtors Commercial Alliance of the MIAMI Association of REALTORS® (MIAMI) has elected Miami native Brian Sharpe as its 2018 president. He and the 2018 RCA Board of Governors were installed Feb. 2 at MIAMI's 2018 Inaugural and Awards Celebration.
RCA MIAMI leaders impact key policy decisions and important issues affecting the South Florida commercial industry, analyze information, are actively and visibly involved in events and programming, and promote Miami and South Florida commercial and investment real estate worldwide. MIAMI represents more than 46,000 residential, commercial, and international real estate professionals.
"Now more than ever, South Florida has become the place to live, play, and invest," Sharpe said. "With annual population growth around 8 percent we have multi-family buildings going up, retail centers being expanded, and new industrial projects being built to meet demand. I have high hopes for 2018 which I am sure will end stronger than it has begun."
Sharpe is a vice president of leasing and construction at Hialeah-based Sharpe Properties. Sharpe has handled the leasing and oversees the construction, repairs, and maintenance for all of the company's managed properties.
Sharpe is also a member of the Property Tax Appeal Group, LLC (P-TAG), which handles property tax appeals for all types of property owners throughout Miami-Dade and Broward County.
Born and raised in Miami, Florida, Sharpe earned a B.A. in Business Administration from Syracuse University. Sharpe is a real estate Broker, certified general contractor, home inspector, and is a Registered Trainee Appraiser.
Sharpe has been an active member of MIAMI's Commercial Board of Governors since 2014. He is also a member of the International Council of Shopping Centers (ICSC), the Commercial Industrial Association of South Florida (CIASF), and the REALTOR Association of Miami-Dade County.
When he is not working with the MIAMI Realtors, Sharpe can be found spending time with his wife and children, raising money for charity by cycling, or listening to Dave Matthews Band.
Sharpe is the third-generation in his family to be involved in commercial real estate. His father, Barry Sharpe, was raised in Cuba and the family lost everything when Fidel Castro took power. His grandfather, Joe Sharpe, started with only help from his community and built up a thriving commercial real estate company.
Announcing the 2018 Commercial Board
Joining Sharpe are: Commercial President-Elect Jennifer Wollmann, CIPS of EWM Realty International; 2017 Commercial President José María Serrano, CCIM of New Miami Realty Corp.; Governor Fernando Arencibia, Jr. of RE/MAX Realty 1; Governor Floyd Cerf, CCIM, EVP of The Keyes Co.; Governor John Dohm, SIOR, CCIM, CFP of Infinity Commercial Real Estate; Governor Andrew M. Dixon of Dixon Commercial Real Estate; Governor Augusto J. Fonte, CCIM of AJF Properties, Inc.; Governor Jennifer M. Forbes of Commercial TeamMates, Inc.; Governor Michael Hinton of Weichert Realtors Best; Governor Alfonso Jaramillo of Fortune International Realty; Governor Joshua Kohn of Kohn Commercial Real Estate; Governor Mitash Kripalani, CCIM of Douglas Elliman Real Estate; Governor Jonathan Lay, MSF, MSRE of Fairchild Partners Commercial Advisor; Governor Diego Leiva of Keller Williams/KWCommercial; Governor F. Antonio (Tony) Puente, CCIM of Fairchild Partners Commercial; Governor Stephen R. Rigl, MBA, SIOR, CCIM of Binswanger-Gateway Partnership; Governor Michael Silver, SIOR of CBRE; Governor Otto Travieso, CCIM of Real Capital Partners, LLC; Governor Yulia Vargas of AG Real Estate Advisors.
Paul Cauchi serves as Senior Vice President of Commercial for the MIAMI Association of REALTORS®. Teresa King Kinney, CAE, CIPS, GRI, RCE, TRC serves as the CEO for the organization.
About RCA MIAMI
The REALTORS Commercial Alliance of MIAMI (RCA MIAMI) seeks to serve commercial members and to shape and unify the commercial real estate brokerage and service industry in South Florida. With over 2,000 members, RCA is the only association of REALTORS dedicated exclusively to commercial real estate interest throughout Miami-Dade County. The Alliance provides member services, including a legislative voice, education opportunities, a code of ethics, and networking opportunities that provide enhancement of the commercial REALTORS knowledge base and ability to service their clients. RCA MIAMI participation facilitates networking opportunities. The Alliance hosts the Annual Commercial Super Conference and Expo, the largest commercial expo in South Florida.
About the MIAMI Association of REALTORS®
The MIAMI Association of REALTORS® was chartered by the National Association of Realtors in 1920 and is celebrating 98 years of service to Realtors, the buying and selling public, and the communities in South Florida. Comprised of six organizations, the Residential Association, the Realtors Commercial Alliance, the Broward Council, the Jupiter Tequesta Hobe Sound (JTHS-MIAMI) Council, the Young Professionals Network (YPN) Council and the award-winning International Council, it represents more than 46,000 real estate professionals in all aspects of real estate sales, marketing, and brokerage. It is the largest local Realtor association in the U.S., and has official partnerships with 167 international organizations worldwide. MIAMI's official website is http://www.MiamiRealtors.com
###