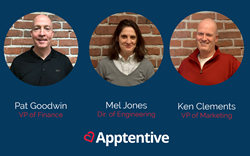 "We're in an exciting phase at Apptentive, as brands everywhere look for leadership on how to become customer-centric. With Pat, Mel, and Ken on board, our team is increasing our ambitions and improving how we serve our customers in more strategic ways," said Robi Ganguly, CEO of Apptentive.
SEATTLE (PRWEB) February 21, 2018
Apptentive, the Mobile Customer Experience platform for the world's leading brands, today announced the addition of three executive team members. They will bolster the company's architecture, marketing and operational strategy, and financial positioning as they move to build a way for companies to deeply understand their customers and their experiences across channels.
Melody Jones joins Apptentive as Director of Engineering. Melody is leading the build-out of a new analytics platform predicated on explicit customer data that will revolutionize how brands measure customer experience. She joins Apptentive from Cision where she served as Vice President of Data Science, Enterprise Architecture. While at Cision, she led the team through six major acquisitions and created the public relations industry's first cloud platform. Prior to Cision, she developed several patented pieces of technology while building a platform that analyzes earned media as the Principal Engineer at Visible Technologies. Melody brings 15 years of big data, machine learning, and research experience to the team. Outside of the office, she loves to explore new places by adding new stamps to her passport and visiting obscure places closer to home.
Ken Clements joins Apptentive as Vice President of Marketing. Ken will lead the company's marketing strategy, including demand generation, sales and marketing alignment, and product marketing. Ken brings over 20 years of executive experience in the software industry, having held leadership positions at Avanade and Microsoft prior to joining Sitrion. At Sitrion, he served as the Vice President of Marketing and led the company's pivot to SaaS with their launch of a new employee mobile solution. Prior to Sitrion, he led the development of Avanade's homegrown digital content management system. When he's not bringing creative marketing campaigns to life, he's rooting for his home team, the Boston Red Sox.
Pat Goodwin joins as the Vice President of Finance and Operations at Apptentive. He will create the financial and operational infrastructure necessary for the company's next stage of growth. Pat has more than 20 years of experience as CFO and Treasurer for national award winning, high-growth companies including Moz, Valve, and AltaSource Group. During his career, he has overseen all aspects of finance and operations, including: fundraising, accounting, audit, tax, legal, risk management, board and shareholder reporting, and administration. Pat is a licensed CPA who has worked for Big-4 firm PWC auditing companies in a variety of industries. He earned his MBA from UCLA's Anderson School of Management. If there's something Pat loves more than crunching numbers, it's logging miles on his favorite toy—a Peloton bike.
"To find not one, not two, but three leaders of the caliber of Mel, Ken, and Pat is a game-changer for our product, our team, and our customers. Mel and Ken's experience developing and marketing transformational software, and Pat's financial expertise will be instrumental as Apptentive continues to evolve," said Robi Ganguly, Co-founder and CEO of Apptentive. "We are in an exciting phase in the life of the company, as brands everywhere look for leadership on how to become customer-centric. With Pat, Mel, and Ken on board, our team is moving more quickly, increasing our ambitions, and improving how we serve our customers in more strategic and valuable ways."
About Apptentive
Apptentive's Mobile Customer Experience software empowers companies to hear from 100 times more customers—at scale. Using proactive mobile communication tools, Apptentive enables companies to deeply understand their customers in order to drive app downloads, create seamless customer experiences, and validate product roadmaps. Through intelligently timed surveys, messages, and prompts, the company powers millions of customer interactions every month on over a billion devices worldwide for companies including Buffalo Wild Wings, Concur, eBay, International Hotels Group, Philips, Saks Fifth Avenue, and Viacom.