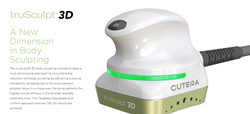 We're thrilled to introduce the revolutionary Cutera truSculpt 3D treatment to our patients.
LAS VEGAS (PRWEB) February 02, 2018
Summerlin Dermatology of Las Vegas is excited to announce the arrival and installation of Cutera truSculpt® 3D, an innovative breakthrough for cosmetic body contouring. Individuals who have worked hard to improve their body's appearance through diet and exercise, but to no avail, now have a revolutionary treatment that will help sculpt the body that they deserve.
It's often the case that the waist and hips are highly resistant to efforts to reduce their size by making healthy choices. This is where Cutera truSculpt® 3D comes into the picture. This safe and effective treatment can help diminish fat and reduce girth without any surgery or downtime. This new treatment is fully customizable to the needs of the individual patient and works on areas both big or small. Cutera truSculpt® 3D can help unleash a patient's ideal figure by improving definition, reducing overall depth, and reshaping body dimensions. Cutera truSculpt® 3D offers proven results in a procedure that is quick, and patients usually see results after just a single treatment.
Dr. Reuel Aspacio of Summerlin Dermatology notes, "We're thrilled to introduce the revolutionary Cutera truSculpt® 3D treatment to our patients. It can be extremely frustrating to eat right and work out on a regular basis, only to see that stubborn fat around your waist and hips never go away. Cutera truSculpt® 3D offers an effective body contouring remedy that will help you realize your ideal figure. There is little discomfort to having the procedure done, and my patients have described the sensation of akin to a hot stone massage. Treatment can be completed in as little as 15 minutes, and even working on a full abdomen and both flanks only takes about an hour. Many of our clients see a difference after one treatment as their waist or hip circumference is reduced and fat is diminished. The full effect of the procedure is seen 6 to 8 weeks afterwards, and a second treatment is often unnecessary, unless for some minor tweaks or to work on a different body part. Cutera truSculpt® 3D is safe for all body types, and there is no downtime. You can resume your daily schedule once you leave our clinic. This new procedure is incredible as it offers tangible results to our patients quickly and without disrupting their day. The response to Cutera truSculpt® 3D by our clients has been very enthusiastic."
About Summerlin Dermatology
Summerlin Dermatology has offered cosmetic, aesthetic, and medical dermatology professional services for patients of all age ranges since 2001. The state-of-the-art medical practice boasts a qualified staff of professionals dedicated to providing first-rate treatments in a comfortable and relaxed setting. Summerlin Dermatology believes in treating each patient individually and that professional skin treatment should be an attainable reality for everyone. The high level of caring and personalized level of treatment for patients has been a hallmark of Summerlin Dermatology since its beginning.
For more information on Summerlin Dermatology, you can visit their website at https://summerlindermatology.com or contact them by calling 702-243-4501.