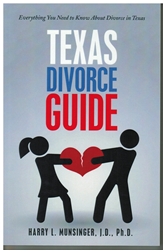 SAN ANTONIO (PRWEB) February 01, 2018
For Immediate Release
Contact: Harry Munsinger (210) 776-7707
San Antonio Attorney Publishes Texas Divorce Guide
Texas divorce attorney Harry Munsinger, J.D. Ph.D., has written a new book for couples wanting to learn more about their options for divorce. The Texas Divorce Guide, published by Archway Publishing, helps to lead divorcing couples through the divorce process with minimal stress and financial loss.
The first set of chapters discusses whether the couple needs a divorce explains the causes of divorce. The next chapters alert the individuals to major difficulties associated with a divorce, helps them to be realistic about the process, and explains how to cope with the inevitable grief associated with a divorce. Section three explains the benefits and risks of a collaborative divorce or litigation, discusses how to tell the kids, and how to find the right divorce attorney. Section four deals with divorce fears and a narcissistic spouse, advises the reader how to survive a divorce financially, and trains them to negotiate and compromise. The fifth set of chapters explains Texas law on child custody, spousal support, child support, and how to divide assets. The final chapters include advice about dating during divorce, explains the purpose of collaborative mediation, suggest ways to make the holidays fun during a divorce, and issues reminders to revise estate plans after the divorce is final.
Getting a divorce can be a difficult and confusing experience, especially if the choice is to litigate the marital dispute. However, readers of the Texas Divorce Guide will learn about the option for a collaborative divorce, which will avoid most of the stress, clear up the confusion, and navigate the pitfalls of a divorce without losing your mind, your money, or your children. Texas Divorce Guide contains everything you need to know about getting through a divorce without going crazy.
Harry Munsinger holds a Ph.D. in psychology from the University of Oregon and a J.D. from Duke University School of Law. He has served as an adjunct professor of law at the University of Texas School of Law in Austin and St. Mary's University School of Law in San Antonio. He holds the distinction of Credentialed Collaborative Professional from Collaborative Divorce Texas.
If you have questions or comments, please contact Harry Munsinger at harry@harrymunsinger.com. Pick up the book here: https://www.amazon.com/Texas-Divorce-Guide-Everything-About/dp/1480853798/ref=sr_1_1?ie=UTF8&qid=1517444154&sr=8-1&keywords=harry+munsinger