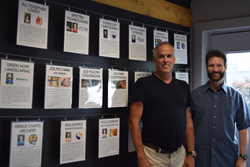 We see part of our role as to equip other churches and organizations to launch BIZNISTRIES like this and enable them to develop their own marketplace ministry programs.
CINCINNATI (PRWEB) February 03, 2018
A BIZNISTRY Boot Camp for Christian entrepreneurs will be held Saturday, Feb. 17 from 8 a.m. to noon at The ORCA Center located on the Grace Chapel Campus in Mason, Ohio. The event will be live-streamed on Facebook Live.
Christian entrepreneurs who have started a business or are interested in starting a business can attend for free, said Chuck Proudfit, president of SkillSource® Business Builders and founder of At Work on Purpose (AWOP). He and the Rev. Jeff Greer, pastor at Grace Chapel and Pete West, ORCA Center director, will host and speak at the event.
The morning's events will include a planning session for greater Cincinnati's BIZNISTRY community; a tour of the enterprises located throughout the Grace Chapel BIZNISTRY campus; and general information about the center and the support it provides for new and existing Christian entrepreneurs.
Self-Sustaining Enterprises, Inc., (SSE) a nonprofit supported by Grace Chapel, recently opened the ORCA Center, a 10,000 square foot BIZNISTRY incubator located at 408 4th Ave. in Mason. The center has been recently renovated and is located in the former New2You thrift shop building, which closed in 2014.
Grace Chapel plants businesses like a vineyard, not a crop—nurturing entrepreneurs over time as they grow their business acumen and Christian faith, said Proudfit, an SSE board member.
"Business people often talk about swimming with the sharks. But orcas are the sharks' only predator," said Proudfit. "All of our businesses operate according to biblical principles. They are located on a local church campus, and that makes church relevant to the community. You can get your hair cut, engage in archery, and get fit, all in one location. It's a very different concept of a church experience. We can serve customers spiritually at the same time we are a part of their everyday life experiences."
The ORCA Center is run by director Pete West, who retired four years ago after a 32-year career at P&G. The center provides entrepreneurs with seed capital, business coaching and spiritual counselors who will help them grow in two areas: their spiritual foundations and fiscal bottom lines.
Once businesses generate sustainable profits, a percentage of profits are designated to support SSE ministries including Back2Back Ministries, a holistic orphan care ministry with operations in Haiti, Nigeria, India and Mazatlán, Mexico.
SSE's "local focus for global reach" formula has been successful for more than two decades. The Rev. Jeff Greer, pastor at Grace Chapel, and his wife, Debbie, co-founded Back2Back Ministries in 1996. Greer met Proudfit in 2002, and together they created the BIZNISTRY concept in order to eliminate poverty, help entrepreneurs grow businesses and serve others with excess profits. They co-authored a book on marketplace ministries called BIZNISTRY: Transforming Lives Though Ministry, in 2014.
"It's unusual to have a center that provides incubator, accelerator and office space with a ministry focus all at in one location," said West. "We see part of our role as to equip other churches and organizations to launch BIZNISTRIES like this and enable them to develop their own marketplace ministry programs."
According to the Bureau of Labor Statistics, 80 percent of businesses survive their first year. But only half of those businesses exist after five years, and only one-third make it past their 10th anniversary.
"A lot of businesses fail just when they are getting to the finish line," said West. "We ask entrepreneurs to commit to two years with us. We feel that that one of the ways to increase their chances of success is to increase their financial, spiritual and intellectual capital. With the right guidance, we feel we can increase those long-term survival rates."
The ORCA Center had a soft opening in early 2017 and has already created 50 sponsored BIZNISTRY jobs.
Enterprises located in the ORCA Center include: CrossFit Superfly Gym, a core strength and conditioning fitness program; Neyer Industrial Design, which creates custom-designed lighting and art; DC Cook, a Christian publishing company focusing on educational materials; All Together Lovely, a beauty products company for people of color and mixed-racial families; and a number of other individual entrepreneurs working in the co-working office area.
An early ORCA success story is Ray of Hope Counseling, which provides outpatient counseling services to children, adolescents and adults. It grew enough at ORCA to move to a larger space in Mason and open two offices.
There are a variety of ways business owners can connect with SSE and support its ministries with excess profits, said West: as an owner/operator at the ORCA Center; a sponsored business that receives seed capital and business coaching; as an affiliated business and strategic partner in the general community; and as an Angel Fund investor for entrepreneurs.
AWOP, with offices located in Blue Ash, Ohio and on the campus at Grace Chapel, is the nation's largest citywide marketplace ministry, with a networked community of 9,000 working Christians. Founded in 2003, AWOP is dedicated to equipping everyday Christians to find and fulfill God's purposes for them at work.
For more information about AWOP, visit http://www.atworkonpurpose.org.
For more information on SSE's BIZNISTRIES, The ORCA Center, or to attend the BIZNISTRY Boot Camp, email info(at)atworkonpurpose(dot)org or call West at (513) 827-1251. Seating is limited.
Contact: Laura Jackson
Email: ljackson(at)skillsource(dot)com
Phone: (513) 477-2652
About At Work on Purpose:
At Work on Purpose is the nation's largest, citywide marketplace ministry, with more than 9,000 networked members in the greater Cincinnati and Miami Valley region. The nonprofit is dedicated to helping working Christians find and fulfill God's purposes for them at work.