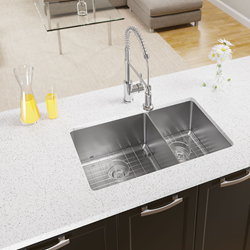 MR Direct grids are built to the same high standards as their sinks
TOLEDO, Ohio (PRWEB) February 05, 2018
Recently, MR Direct added three new models to their line of ¾-inch radius, stainless steel sinks. The 1717 presents a square shape, while the 3160L/3160R feature an offset, double-bowl format. They have proven to be popular additions. Their signature, tight, rounded corners create abundant interior space and are easy to clean.
These are deep sinks with straight sides and a flat bottom. Furrows in the base channel residual water to the offset drains. A brushed satin finish on the premium-quality stainless steel glistens endlessly as it protects. These models, as all ¾-inch radius sinks, are offered in a choice of 18, 16, and an unheard of, 14-gauge thickness.
Today, MR Direct is happy to announce that superior-quality, stainless steel grids are available for these new sinks. They are custom-fitted to each bowl, and no matter the gauge of the stainless steel sink, these grids offer ample protection.
Though some grids on today's market can be easily bent or even rust due to flimsy construction and poor-quality materials; the MR Direct grids are built to the same high standards as their sinks. Heavy-duty stainless steel presents a thick, handsome latticework; fully capable of protecting the bottom of the basin from dents and scratches.
These grids are the perfect means of keeping foodstuffs and dishware above the surface of the sink, and so untouched by remnant water below them. Stainless steel feet raise the grid nearly an inch and each wears a thick, removable rubber boot. All parts are dishwasher safe, keeping maintenance simple. Durable and practical, MR Direct grids are the perfect-fitting accessory for the newest sink additions to the ¾-inch radius line.
If interested in learning more about stainless steel grids or any other accessories, faucets, or sinks; please visit: http://www.mrdirectint.com.