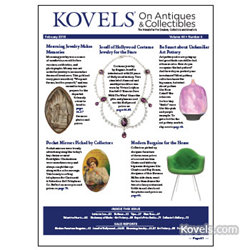 CLEVELAND (PRWEB) February 02, 2018
Costume jewelry and accessories by Joseff of Hollywood were featured in a sale report in Kovels on Antiques & Collectibles February 2018 newsletter. More than 600 Joseff pieces spanning 90 years of Hollywood movie history were offered at the California auction. A pair of gold-plated filigree earrings with simulated diamonds worn by Marilyn Monroe to promote Gentlemen Prefer Blondes took top lot at $112,000, proving that jewelry sells higher if worn by a famous actor or actress. See pictures and prices of Joseff jewelry worn by Vivian Leigh, Shirley Temple, Mae West and other stars.
Mourning jewelry sold for high prices in a Pennsylvania auction where prices peaked at $35,000. For hundreds of years it was carried or worn to remember departed loved ones. Kovels' February issue pictures the top-seller along with other pins, pendants and bracelets with symbolic images like funerary urns, skulls and weeping willow trees as well as portraits, verses and locks of hair. Small pocket mirrors were useful and popular advertising trinkets given out by merchants and vendors at the turn of the 20th century and are popular collectibles today. Many sold at a recent New York auction from $30 to $3,000, and colorful examples are pictured with prices in Kovels' latest newsletter.
Art pottery was auctioned in Cincinnati and pieces by recognized makers continue to rise in price. Kovels' February newsletter offers pictures, prices and tips to help readers recognize smaller or lesser-known potters whose work can still be bargains at house sales and flea markets. And collectors picked up designer furniture for dorm room prices at a recent St. Louis auction. Chairs and tables by big-name designers sold for less than dinner for two at a fancy restaurant. Find pictures and prices of modern bargains in Kovels' February newsletter.
To celebrate Valentine's Day, Kovels' pictures some famous heart-shaped items from a Bakelite pin to a pricey ice cream scoop. The popular illustrated Collector's Gallery answers readers' questions about a Staffordshire platter, Benedict silver plate, an old Holloway's Ointment pot and a set of juggler's clubs. The February Dictionary of Marks lists American art pottery makers. And more than 70 antiques and collectibles are listed in February's Buyers Price Guide.
Kovels on Antiques & Collectibles is available as a print subscription, or as a digital version that is part of the Kovels.com Premium subscription.
Terry Kovel is America's foremost authority on antiques and collectibles. She is the well-known columnist and author of more than 100 books on antiques and collecting. The 2018 / 50th anniversary edition of Kovels' Antiques & Collectibles Price Guide is currently available at Kovelsonlinestore.com and local bookstores. Terry Kovel will discuss antiques and collectibles topics with accredited media. Photographs are available. Contact pr(at)kovels(dot)com.
About Kovels.com
Kovels.com, created by Terry Kovel and her daughter, Kim Kovel, provides collectors and researchers with up-to-date and accurate information on antiques and collectibles. The company was founded in 1953 by Terry Kovel and her late husband, Ralph. Since then, the Kovels have written some of America's most popular books and articles about antiques, including the best-selling annual Kovels' Antiques & Collectibles Price Guide. The website, Kovels.com, online since 1998, offers more than a million free prices, and includes a free weekly email, "Kovels Komments." It gives readers a bird's-eye view of the market through the latest news, auction reports, a Marks Dictionary, readers' questions and answers and much more.
Contact Information:
Liz Lillis
216.752.2252
Pr(at)kovels(dot)com