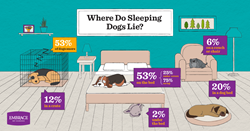 53% of pups sleep in bed with their owners....and 39% with their head on the pillow.
CLEVELAND (PRWEB) February 05, 2018
A popular question when it comes to dog ownership is where they sleep at night. Should dogs be crated, or is co-sleeping okay? The answer is that is that they should sleep wherever is the safest and most comfortable for them and for you. Embrace Pet Insurance asked more than 10,000 people where their dogs sleep at night. 53% of pups sleep in bed with their owners, but only 25% of them sleep under the covers and 39% with their head on the pillow.

20% sleep in their own bed, 53% of them with a blanket.
Some people (and dogs!) prefer a crate, 12%, actually. And of this crowd, 76% have a blanket in there with them.
Everyone's heard of checking under the bed for monsters, but how about a dog guarding it? 2% of dogs find that under the bed is their favorite sleeping spot!
6% choose to surf the couch.
What about the cuddlers? 86% of owners like to cuddle with their dogs at night, but only 81% of dogs cuddle with their owners. Our condolences to the 5% of owners whose dogs won't cuddle them. There is one thing that almost half of all dogs have in common, and that's that 48% of them snore.
Blankets are a theme no matter where dogs sleep, and really, is there anything cuter than a dog all wrapped up in a blankie? But those with dogs who have a habit of chewing beware, a blanket to a stressed or bored dog could be an emergency waiting to happen. Unfortunately, one of Embrace's own employees learned this when her crated Labrador ate a piece of her blanket and had to be rushed into emergency surgery. The bill topped $3,800, with Embrace reimbursing over $2,600. Keeping a close eye on pups while crated, or skipping the blanket altogether, is always advised.
Dogs sleep a considerable amount more than humans. It's a good idea for owners to pay attention to their specific sleeping habits. If there is a change (i.e. sleeping more, sleeping restlessly, changing sleeping locations, etc.) make note of it, and ask a veterinarian if things don't seem right. Our dogs tend to tell us that they're having problems in different ways and sleeping habits are one of them.
Embrace wants to see your sleeping pets. They are hosting a sleeping pet photo contest from February 5 through February 15. Interested pet owners can upload their pet's photo at https://www.embracepetinsurance.com/waterbowl/article/sleeping-pet-photo-contest for a chance to win a $100 Amazon gift card*. (Cat photos are welcome too!)
*Amazon is not affiliated with this giveaway. No purchase necessary. By submitting your pet's photo to this contest you agree to the contest rules.
###
About Embrace Pet Insurance
Embrace Pet Insurance is an Ohio-based pet health insurance provider, offering comprehensive, personalized insurance products for dogs and cats across the United States. Embrace is consistently ranked as one of the highest-rated U.S. pet insurance companies, and is a proud member of the North American Pet Health Insurance Association. Embrace is the only company to offer a diminishing deductible feature, the Healthy Pet Deductible, and continues to innovate and improve the pet insurance experience for pet parents across the country. For more information about Embrace Pet Insurance, visit http://www.embracepetinsurance.com or call (800) 511-9172.