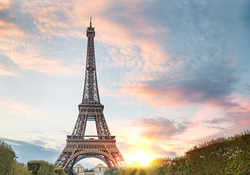 A trip to Paris from Newark starting from $749 - What a deal!
BOTHELL, Wash. (PRWEB) February 03, 2018
Leading travel provider go-today is offering an exclusive deal to Paris from Newark from $749* per person. Offering limited departure dates, this deal won't last beyond February 14.
Travelers can experience the best of the "City of Lights" with a 6-night trip to Paris, France. Starting from $749* this deal includes round trip airfare from Newark, New Jersey to Paris, France, 6-night hotel accommodation and daily breakfast. While in Paris travelers can admire the sparkle of the Eiffel Tower, admire the artwork at the Louvre or tour the Palace of Versailles.
Here are the dates of travel:
Tuesday, April 17 - Tuesday, April 24
Tuesday, May 15 - Tuesday, May 22
Tuesday, May 22 - Tuesday, May 29
Tuesday, May 29 - Tuesday, June 5
*This price is valid only on departures from Newark on the dates above. Price is based on double occupancy and subject to change prior to purchase.
Anyone looking to take advantage of discounted vacations can fuel their wanderlust with the saving provided from go-today's current promotion. Adventure seekers and beach goers alike can take advantage of discounts up to $500 per person. Simply book a vacation over $499*. View all go-today vacation packages here.
About go-today:
Go-today is a travel company based in Bothell, WA. They specialize in custom itineraries to destinations in Europe, Latin America, South America, Africa, Asia and the South Pacific. The team at go-today is always ready to help plan the perfect trip from flights and hotels to sightseeing and transfers.