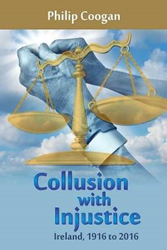 "A devastating and yet beautiful read— I highly recommend 'Collusion with Injustice.'" – Charles Asher, Amazon Reviewer
(PRWEB) February 07, 2018
Violence is nothing new in Northern Ireland. Author Philip Coogan's story begins with his grandfather joining the British Army in 1877. It then spans the next 100 years of local history, family survival, and bloodshed, leading up to the 1970s.
The stunning memoir "Collusion with Injustice" details the moving true account of one family's experiences with the Northern Ireland civil war of the 1970s. The author's life changed forever in December 1971, when a bomb destroyed his thriving garage business in Donaghadee, Northern Ireland.
Coogan's troubles only intensified and he survived repeated assassination attempts. He was also prevented by planning authorities to rebuild his garage. "I received no compensation for my injuries or large building site. My health deteriorated and I suffered severe post-traumatic shock disorder and other illnesses." He emerged a broken man, and to this day wonders what his life could have been like.
About the Author: Philip Coogan now lives in Ireland. "I have never been able to hold a job from that night of 1971 when the bomb went off."
See what Amazon readers are saying about "Collusion with Injustice:"
"The writing is evocative and intimate, and Mr. Coogan is a master storyteller, utilizing pacing and dramatic action to hook readers and, once drawn into the narrative, keep them emotionally invested in the horror and the tragedies that he himself has experienced. A devastating and yet beautiful read— I highly recommend 'Collusion with Injustice.'" – Charles Asher
"Reading this book, was as if being given a history lesson, told first hand, by one who has lived thru it. This book has a real human touch, and is easy to read, despite some of the bad events that befell Philip, his family and others. It shows the perseverance of the human spirit, even under great distress." – Peter Pickail
"…once Philip Coogan started telling his own story, about five or six chapters into the book, I was completely hooked and sped through the book anxious to see what happened next." – Linda F. Kurtz
"This powerful historical memoir takes a fascinating look at a troubled time in Northern Ireland. We are thrilled to announce its release," said Robert Fletcher, CEO of Strategic Book Publishing and Rights Agency.
COLLUSION WITH INJUSTICE: IRELAND, 1916 TO 2016 (ISBN: 978-1-68181-624-1) is now available for $20 and can be ordered through the publisher's website:
http://sbprabooks.com/PhilipCoogan or at Amazon.com or Barnesandnoble.com.
WHOLESALERS: This book is distributed by Ingram Books and other wholesale distributors. Contact your representative with the ISBN for purchase. Wholesale purchase for retailers, universities, libraries, and other organizations is also available through the publisher; please email bookorder(at)sbpra(dot)net.