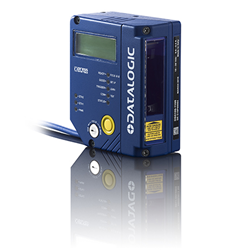 BOLOGNA, Italy (PRWEB) February 05, 2018
Datalogic, a global leader in the automatic data capture and process automation markets, announce the DS5100, the new flexible, powerful and compact laser scanner. With multiple models available, the DS5100 family delivers superior reading performance and embedded industrial connectivity in a top industrial grade.
Datalogic has managed to combine in a single product the most real and earnest needs of any production environments: a cost-effective solution, ideal for any identification needs, in many applications, from the Automotive Industry, to the Food & Beverage and Pharmaceutical. Thanks to the availability of medium range, long range, oscillating mirror and subzero models, the DS5100 laser scanner allows to cover an extensive range of applications such as: Shop Floor, Production Traceability, End of Line, Automated Warehouse, Intralogistics, Pallet Reading, Cold environment.
The continuous push towards the renewal of its technology and the huge investments that Datalogic places in Research and Development, lead to an even further technological upgrade of its solutions. Thus DS5100, with its outstanding performance, will replace some of the current laser scanner solutions, simplifying the Datalogic Scanner Portfolio with a smart, flexible and high performance offer.
Key Benefits

Performance in harsh industrial environments at any operating condition
Outstanding reading execution
Flexibility
Cost-effective
Ideal for different applications
Easy installation, setup and maintenance
Compact dimensions
Multilanguage display
Key Features

Medium and Long range models
Smart multi-side and networking capability for high-speed communication networks and high-speed data transmission and real-time synchronization events
Total connectivity to main industrial Fieldbus for cost saving, simplified cabling and short installation time
Reconstruction technology to improved reading of damaged barcodes
Total ambient light immunity
Typical Applications

Automotive: Shop Floor, Work In Progress Control, Parts Traceability
Food & Beverage, Pharmaceutical: Secondary Package Control, End of Line, Palletizing, Automated Warehouse, Tote Tray Identification, Automatic Picking Process Control, Intralogistics, Entry level Sorting and Shipping Process, Pallet Reading, Cold Storage and Outdoor applications (subzero models)
General Manufacturing: Shop Floor, Work In Progress Control, Parts Traceability, Secondary Package Control, End of Line, Palletizing, Shipping process, Automated Warehouse, Intralogistics
***
Datalogic is a global leader in the automatic data capture and process automation markets, specialized in the designing and production of bar code readers, mobile computers, sensors for detection, measurement and safety, RFID vision and laser marking systems. Datalogic solutions help to increase the efficiency and quality of processes in the Retail, Manufacturing, Transportation & Logistics and Healthcare industries, along the entire value chain.
The world's leading players in the four reference industries use Datalogic products, certain of the attention to the customer and of the quality of the products that the Group has been offering for 45 years.
Today Datalogic Group, headquartered in Bologna (Italy), employs approximately 2,700 staff worldwide, distributed in 30 countries, with manufacturing and repair facilities in the USA, Brazil, Italy, Slovakia, Hungary and Vietnam. In 2016 Datalogic had a turnover of 576.5 million Euro and invested over 50 million Euros in Research & Development, with an asset of more than 1,200 patents in multiple jurisdictions.
Datalogic S.p.A. is listed in the STAR segment of the Italian Stock Exchange since 2001 as DAL.MI. More information about Datalogic at http://www.datalogic.com.
Datalogic and the Datalogic logo are registered trademarks of Datalogic S.p.A. in many countries, including the U.S.A. and the E.U.