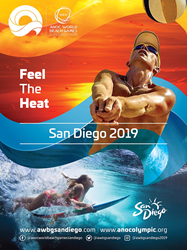 San Diego, California (PRWEB) February 06, 2018
The San Diego Local Organizing Committee for ANOC World Beach Games 2019 announced that it has inked a Tier 1 global partnership deal with San Diego-based Total Communicator Solutions, Inc. (TCS) that aims to deliver a next-generation fan activation strategy, thanks to the company's proprietary Spark Compass™ contextually intelligent communications platform.
The ANOC World Beach San Diego, scheduled to take place in October of 2019, is designed to become an all encompassing showcase for innovative technology ranging from fan engagement to smart city innovations.
In that regard, the patented Spark Compass integrates beacons, augmented reality, smart city sensors and other sensors to enable contextually intelligent communication, bridging the gap between the physical and digital spaces.
Erik Bjontegard, Founder and CEO of TCS, gave a glimpse into the exciting world of augmented intelligence at the most recent AWBG Working group meeting held in San Diego, where ANOC Secretary General Mrs. Gunilla Lindberg and other senior ANOC representatives were in attendance. Erik showcased intelligent display and diverse applications that are expected to be game changers in how fans engage and consume content.
"We are excited at the opportunity to partner with the ANOC World Beach Games San Diego 2019," stated Erik. "The intersection of youth-focused sports and the global nature of the Games is the perfect foundation for harnessing tomorrow's technology today. It's all about making smart things intelligent, which lies at the heart of our expertise. As the Games are activated with the Spark Compass 'platform of platforms,' we're paving the way for the future of sports and large-scale entertainment events."
Vincent E. Mudd, Chairman of the San Diego Local Organizing Committee added: "Our partnership with San Diego's own TCS and its cutting edge Spark Compass technology is a testament to the breadth of innovation and thought leadership that exists in our region. We envision the 2019 Games to move the needle in how content is curated and delivered not only to our audience that will enjoy the Games in beautiful San Diego, but all the way to our global fans joining us from the 206 Association of National Olympic Committees member countries. It is indeed, exciting times."
Feben Yohannes, Head of Marketing and Public Relations for the San Diego Local Organizing Committee also added: "Having Spark Compass as a Global Partner amplifies our message that ANOC World Beach Games San Diego will be positioned as a platform to showcase innovations in every aspect of the Games. From enhanced AR with data overlays with offers from local sponsors, to hyper localized experiences delivered globally, our sponsors will be able to interact with fans in new ways with real-time offer redemption and Augmented Reality merchandise activation.
"Such multi-tenant Spark Compass technology enables integrations with diverse applications, including in-water pollution measurements, to location based dispatch of staff. "We are excited at the prospect of delivering unprecedented Return on Investment for our Sponsors and stakeholders." Feben stated.
To experience Spark Compass Intelligent Display in action,

Download and launch the Spark Compass App
Click on the AWBG 2019 logo
Click on AR Posters
Hover over poster and enjoy AWBG videos.
About the San Diego Exploratory Foundation
The San Diego Exploratory Foundation (SDEF) is a nonprofit organization committed to elevating San Diego on a global platform by attracting world caliber sporting events and innovative projects that ultimately impact the long term goals of the region.
Website: https://www.sdexploratoryfoundation.org/
About ANOC World Beach Games San Diego 2019
The ANOC World Beach Games is the first and only truly global festival that combines elite youth-centric beach and water sports with music, entertainment and digital media. The inaugural event is set to take place in San Diego, CA with cutting edge technology showcased at every aspect of the Games and a focus on sustainability with Clean Water- Clean Games as the driving message for the ANOC World Beach Games San Diego 2019.
Website: https://awbgsandiego.com/
For more information, please contact: Feben Yohannes, Head of Marketing & Public Relations
San Diego Local Organizing Committee for ANOC World Beach Games 2019
fyohannes(at)sdexploratoryfoundation(dot)org
About ANOC
The Association of National Olympic Committees (ANOC) was established in June 1979 during the Constitutive General Assembly in San Juan, Puerto Rico. Over the last 36 years, the number of National Olympic Committees (NOCs) whose interests ANOC represents has risen to 206.
ANOC is administered from its headquarters in the Olympic Capital, Lausanne, where it has been based since June 2010. When the ANOC President Sheikh Ahmad Al-Fahad Al-Sabah was elected in April 2012 his stated objective was to reform, modernize and professionalize the organization in order to better serve the needs of the world's NOCs.
Website: http://www.anocolympic.org/
For more information, please contact media(at)anocolympic(dot)org,
Or Justin Shea on +44 7917 825 412
About Spark Compass
Total Communicator Solutions has developed a fully integrated, contextually intelligent mobile communications platform. The solution leverages real-data analytics with real-time actions and events based on collected data, combined with location, user and activity knowledge to deliver curated experiences on mobile devices.
The company's patented, contextually intelligent communications platform, Spark Compass, integrates proximity beacons, NFC, augmented reality, beacons and other sensors. With several installations, Spark Compass is used by enterprises such as airports, hospitals, universities, sport venues and event centers, as well as healthy living organizations. Total Communicator Solutions is headquartered in San Diego, Calif., with locations in the US, Spain, Mexico, UK, Norway and New Zealand.
Website: http://sparkcompass.com/
For more information, please contact vikkiq(at)sparkcompass(dot)com