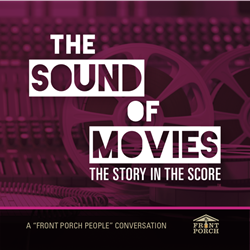 "As we continue to create quality shows with the listener in mind, we also keep in mind our own passions. The Sound of Movies is one of those universal loves for film buffs and music lovers alike."
CLEVELAND (PRWEB) February 06, 2018
The Front Porch Media Network ("Front Porch") is launching its second new podcast of 2018, The Sound of Movies. The new podcast celebrates the soundtracks of your favorite films. On The Sound of Movies the listener will hear a vivid retelling of the plot through the sounds of each memorable score. From the classic opening scene in Jaws to the thrilling chariot races in Ben Hur, it's the story and the score jam packed into 35 minutes of great podcast entertainment.
"We created The Sound of Movies podcast in order to share our favorite movie soundtracks in way that is both fun and easy to listen to," says Front Porch CEO, Michael DeAloia. "As we continue to create quality shows with the listener in mind, we also keep in mind our own passions. The Sound of Movies is one of those universal loves for film buffs and music lovers alike."
About The Sound of Movies: The Story in the Score
What do Star Wars, Gone with the Wind, Jaws, High Noon, and Ben Hur all have in common? Award-winning, magnificent, memorable soundtracks. Hosted by film enthusiast Joan Andrews, The Sound of Movies offers each listener with timeless box office favorites, thoughtful conversation and memorable musical elements all in one harmonious podcast. Each episode will feature the soundtrack of a movie accompanied by a description of the scenes that coincide with the track. At the intersection where film and music meet, The Sound of Movies charmingly collects the best of both worlds.
Listen to The Sound of Movies for the Story in the Score. Find this and more from The Front Porch People on iTunes or go to thefrontporchpeople.com.
About The Front Porch People
The Front Porch Media Network, LL ("Front Porch") is a radio network and podcast production company offering on-demand and broadcast programming. The Front Porch produces, edits, records and publishes original content about movies, comedy, classic literature, design, and the Great American Songbook. Based in Cleveland, Ohio and lead by a team of knowledgeable executives, supported by rock-star talent, and backed by experienced production and broadcasting professionals, The Front Porch People are committed to bringing premium podcast and radio content to people wherever they are.
Our Mission
To produce and distribute high quality storytelling that entertains, inspires and delights the intellectually curious and highly engaged listeners across digital, mobile and terrestrial broadcast platforms.
For more information about The Front Porch Media Network visit thefrontporchpeople.com or find them on:
iTunes: https://itunes.apple.com/us/artist/the-front-porch-people/1269391518?mt=2
Facebook: https://www.facebook.com/thefrontporchpeople
Twitter: https://twitter.com/Front_Porch_Ppl
Press Contact: Julie Fink
Email: jfink@thefrontporchpeople.com