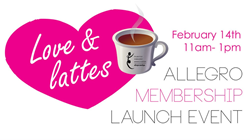 SANTA ROSA, Calif. (PRWEB) February 05, 2018
Allegro Med Spa is pleased to announce its new membership program. To introduce the exciting program to the public, Allegro MedSpa will be hosting it's first-ever membership event, Love and Lattes, on February 14th, from 11:00 am to 1:00 pm at the Santa Rosa office.
In 2017, Allegro MedSpa started the HydraFacial membership. Practice founders, Heather Furnas, MD and Francisco Canales, MD were overwhelmed by the program's success and positive reaction from clients. For this reason, Allegro MedSpa decided to broaden the monthly membership plan by including additional services, such as deep discounts on Botox Cosmetic and skincare products.
The new Allegro MedSpa membership has been designed to add joy to patient's lives by simplifying their beauty and self-care routine. Each membership starts off with a private consultation and customized treatment plan. From that point on, patients can enjoy Botox Cosmetic at the special price of $14 per unit, 5% off skincare products and other member-only specials. Added incentives include a free HydraFacial as a six-month perk, and 10 free units of Botox as a 12-month perk. With no initiation fee, enrollment in the Allegro MedSpa membership is free, simply pay monthly. Members may cancel at any time.
In honor of the new membership program, Allegro MedSpa will host Love and Lattes on February 14th. The special morning will be filled with information, snacks, demonstrations and treatments. Those in attendance will enjoy a selection of coffee and tea from A'Roma Roasters and chocolates from California's own, See's Candies. Each individual will also get a limited-edition mug and have the chance to win one of several exciting raffle prizes. Additionally, #SonomaStrong t-shirts will be available for purchase, with all profits going to the Redwood Credit Untion Fire Fund.
In 1990, Dr. Furnas and Dr. Canales opened Plastic Surgery Associates, bringing patients in Sonoma County the latest cosmetic surgery procedures. As the shift towards noninvasive techniques grew, the surgeons opened the doors to Allegro MedSpa. Now with two locations, in Santa Rosa and Novato, Plastic Surgery Associates and Allegro MedSpa are trusted by thousands of patients from the world over.
For more information on the Allegro MedSpa membership or to schedule your initial consultation, contact the Santa Rosa office at (707) 537-2123. Get the details on Allegro MedSpa's February 14th Love and Lattes event and reserve your spot early, as space is limited.