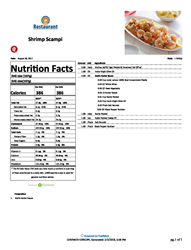 We bring unique technology to independent and small group food service establishments.
NEW YORK (PRWEB) February 08, 2018
Edamam, a leading nutrition data provider for the food, health and wellness sectors, has partnered with ChefMod, a member-based purchasing and EzRecipe management solution for food-service establishments, to supply ChefMod's customers with nutrition and diet data for their recipes and menus.
Restaurants will receive automated nutrition analysis of existing and new recipes with detailed breakdown of nutrients, allergen warnings and applicability of each recipe for popular diets, such as low-sodium, paleo, vegan.
ChefMod will leverage Edamam's Nutrition Analysis API to seamlessly deliver the service to its customers.
"We found Edamam's API easy to use and integrate, allowing us to provide our members with the data they need at a much lower price point than hiring a nutritionist or using another solution," shared John Oldweiler, President and Founder of ChefMod.
"We see the partnership with ChefMod as a great case study of how we can bring our unique technology to independent and small group food service establishments," added Victor Penev, Edamam's CEO and Founder.
Edamam also provides a self-service solution, dubbed Nutrition Wizard, for restaurants and caterers to analyze and manage the nutrition data of their recipes. This tool has the advantage of an easy input using natural language, providing the analysis of a recipe in less than a second with human level accuracy.
About Edamam
Edamam organizes the world's food knowledge and provides nutrition data services and value-added solutions to health, wellness and food businesses. Using a proprietary semantic technology platform, it delivers real-time nutrition analysis and diet recommendations via APIs. Edamam's technology helps customers answer for their clients the perennial question: "What should I eat?"
Edamam's partners and clients include The New York Times, Epicurious, Nestle, Samsung, AARP and Random House.
For more information, please visit http://www.edamam.com or developer.edamam.com.
About ChefMod
ChefMod LLC provides restaurants easy online access to BOH solutions. Founded in 2005, industry expert John Oldweiler, and foodservice technical pioneer Eduard Spivak apply ChefMod member aggregate food and supplies spend to drive superior supplier relationships, through their efficient cloud-based solution. Members enjoy the purchasing clout of multiple restaurants, bars, fast food concepts and catering operations independently owned throughout New York City, New Jersey, Washington DC, Boston, Connecticut, Florida, Alabama and South Carolina.
For a complimentary demo visit their website at http://www.chefmod.com, or email John Oldweiler at John (at) ChefMod (dot) com.