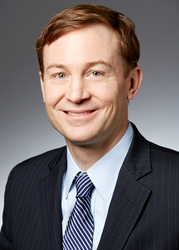 NEW YORK (PRWEB) February 06, 2018
Wilmington Trust has appointed Robert McKeon as Head of Fiduciary Risk Management. In this role, he will confirm that Wilmington Trust is meeting its fiduciary responsibilities both structurally, through policy, process and governance, and functionally, as a professional trustee.
McKeon has nearly two decades of experience in fiduciary compliance, corporate governance and fiduciary risk management. Before joining Wilmington Trust, he served as a senior director and lead fiduciary officer at Capital One. Previously, he held positions at Morgan Stanley and Merrill Lynch.
"As regulatory, legal and competitive pressures evolve, Robert will make sure we continue to embed the best practices throughout the company," said Don DiCarlo, Chief Fiduciary Officer, Wilmington Trust. "He has a tremendous depth of experience across the areas of risk and compliance and is uniquely positioned to advance the complex risk mitigation and wealth management needs of our clients."
McKeon holds a Juris Doctorate from Seton Hall University Law School, a bachelor's degree from Villanova University and an LL.M in Taxation Law from Villanova University School of Law. He is a member of the New Jersey State Bar Association and the Fiduciary and Investment Risk Management Association.
MEDIA CONTACT:
Kent Wissinger
Wilmington Trust PR Manager
(302)651-8758
Wilmington Trust is a registered service mark. Wilmington Trust Corporation is a wholly owned subsidiary of M&T Bank Corporation. Wilmington Trust Company, operating in Delaware only, Wilmington Trust, N.A., M&T Bank and certain other affiliates, provide various fiduciary and non-fiduciary services, including trustee, custodial, agency, investment management and other services. International corporate and institutional services are offered through Wilmington Trust Corporation's international affiliates. Loans, credit cards, retail and business deposits, and other business and personal banking services and products are offered by M&T Bank, member FDIC.