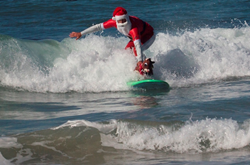 DANA POINT, Calif. (PRWEB) February 08, 2018
More than $35,000 was donated to Surfers Healing as a result of The Ritz-Carlton, Laguna Niguel's Annual Holiday Surfboard Auction and SUP/Surfing Santa Competition. Surfers Healing is a foundation for autism that hosts free surf camps that introduce children with autism and their families to the therapeutic properties of surfing. Last year, Surfers Healing took more than 5,500 children surfing during surf camps held across the country from Malibu and Doheny Beach in California to Wrightsville Beach, NC and Toronto, Canada.
"This year we celebrated our 10th year of hosting the Holiday Surfboard Auction and our 8th year for the Competition" said Bruce Brainerd, General Manager of The Ritz-Carlton, Laguna Niguel. "The collection of surfboards is always impressive and this year was no exception. I continue to be impressed by the outpouring of support by the artists and shapers. It's through their generosity that we are able to raise funds in support of Surfers Healing and their mission to enrich the lives of children living with autism," he added.
The SUP Santa / Surfing Santa Competition is a two-day surf contest where competitors dress like Santa or other holiday-inspired characters and stand up paddle and surf the waves at Salt Creek Beach. The competition is held every year the weekend before Thanksgiving. The Holiday Surfboard Auction kicks off that same weekend and runs through December 31. The collection of donated surfboards is auctioned off and over the years has highlighted boards from well-known artists like Wyland, Darren Le Gallo, West Rubinstein, Dana Louise Kirkpatrick, and Sage Vaughn, musicians such as Donavon and the Red Hot Chili Peppers, and personal boards from surf legends including Greg Long, Andy Irons, Shawn Dollar, Laird Hamilton, Garrett McNamara and Kelly Slater, to name a few. Developed by The Ritz-Carlton, Laguna Niguel's General Manager Bruce Brainerd, the two seasonal events have helped contribute nearly $350,000 to Surfers Healing.
# # #
About Surfers Healing
Surfers Healing was founded in 1997 by former professional Longboarder Izzy Paskowitz and his wife Danielle Paskowitz. It all started when Izzy and Danielle's second child, Isaiah, was diagnosed with autism at the age of 3. Izzy was devastated when his son was diagnosed with autism. He learned Isaiah never would walk in his footsteps in the sand – he would not grow-up to be a pro surfer like his dad. But soon Isaiah and Izzy found their connection in the water. Surfing tandem on a surfboard built for two, Izzy would ride the waves with his 5-year-old autistic son and the healing began. Soon, Izzy would take Isaiah's classmates out surfing and each child had the same reaction. With a steady hand to guide them in the water they overcame the hard part – that anxious transition from beach to surfing. Izzy discovered the water brought calm to the autistic children and was soothing to this neurological disorder. Each healing wave sparked a therapeutic response – an awakening and more focus in the kids. Surfing was perfect therapy for a child with autism. As the original surf camp for children with autism, Surfers Healing celebrated its 20th season of providing free one-day surf camps to more than 5,000 children in California, Florida, Maryland, Virginia, New Jersey, North Carolina, South Carolina, Rhode Island, and Hawaii, as well as other locations such as Australia, New Zealand, and Mexico.
About The Ritz-Carlton, Laguna Niguel
The Ritz-Carlton, Laguna Niguel rises above the Pacific Ocean and affords panoramic views across the horizon and the miles of sandy beach below. The resort's extraordinary bluff top setting creates a backdrop that elevates the guest experience and creates distinctive and unforgettable memories that last a lifetime. Make the oceanfront resort a part of your travel plans and #riseabove. For more information or reservations call 800-241-3333, the hotel directly at 949-240-2000, a travel professional or visit http://www.ritzcarlton.com/LagunaNiguel.