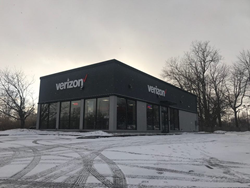 Our goal is to bring our esteemed customer service to Amherst.
AMHERST, N.Y. (PRWEB) February 08, 2018
Cellular Sales, the largest independent Verizon Wireless retailer by volume, is adding another Buffalo-area store with the opening of its newest location in Amherst.
The store can be found at 3010 Niagara Falls Blvd., at the intersection of E Robinson and Niagara Falls Roads, across from Tops Plaza. Cellular Sales opened its doors on Dec. 15. This is the 47th Cellular Service store in New York.
"Greater Buffalo has been a great place for us, and that's why we continue to open stores in this area," said Cellular Sales Regional Director Tim Blackburn. "Amherst is providing us with a great expansion opportunity, which we are always eager to find."
Cellular Sales has been named to Inc. Magazine's Inc. 5000 as one of the nation's fastest growing privately owned retailers nine of the past 10 years, something only 0.5 percent of companies that make the list achieve. Placing an emphasis on customer service, Cellular Sales has grown from a single store in Knoxville, Tenn., to a national retailer with 670 stores across 39 states.
"Putting the customer first has always served us really well, in the northeast and throughout," said Regional Director Luke Fletcher. "Our goal is to bring our esteemed customer service to Amherst.'
Cellular Sales seeks to hire motivated sales professionals with a passion for customer service to work at its Amherst location. Those interested in applying for positions at Cellular Sales Amherst may contact Cellular Sales Recruiter Jason Alexander at (615) 788-9634 or Jason.alexander@cellularsales.com.
About Cellular Sales
Headquartered in Knoxville, Tenn., Cellular Sales was founded in 1993 and has been named by Inc. Magazine as one of the nation's fastest-growing privately owned retailers for nine of the past 10 years. The company currently employs 7,200 people and operates 670 stores nationwide. Job seekers may visit jobs.cellularsales.com. For more information on the company, visit cellularsales.com.
###