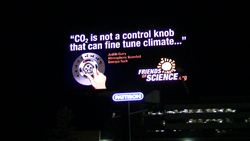 NEI Investments is cited by the UNPRI as one of the most active institutional investors in lobbying governments to fall in with the "Paris Pledge for Action" – a pledge that Friends of Science says is based on faulty science
CALGARY, Alberta (PRWEB) February 07, 2018
As the Alberta government announces a new renewables auction, as reported Feb. 6, 2017 in the Calgary Herald, Friends of Science Society is calling for a moratorium on wind and solar auctions in Alberta, demanding a full cost-benefit analysis of the climate change plan and carbon tax. Friends of Science says Albertans are being led down a path of #Billions4Blackouts.
Based on the recent Comprehensive Market Design report, industry experts estimate that the Alberta Electric System Operator (AESO) will be incurring about $100 million for IT infrastructure redesign to integrate wind, an estimated $25 million annually on the Renewable Electricity Program (REP) and capacity market;and it will cost tens of millions annually to administer. Without a carbon tax, there would be no means to subsidise the intended growth of wind, and without the climate plan wind targets, this redesign isn't necessary.
Alberta has already spent or committed billions of dollars on coal phase-out compensation for what may end up as a less reliable power grid, as has been the experience in Australia, where massive addition of wind and shut down of coal has led to costly blackouts, as reported Dec. 8, 2016 by ABC News.
NEI Investments and 120 institutional investors canvassed the Notley government in a collaborative letter of Sept. 8, 2015, on carbon tax, climate policies and renewables, claiming success in their Jan. 2016 "Transitioning to a Low-Carbon Energy System." In the 2016 annual report of the UNPRI, NEI Investments is cited by the UNPRI as one of the most active institutional investors in lobbying governments to fall in with the "Paris Pledge for Action" – a pledge that Friends of Science says is based on faulty science.
Friends of Science has been critical of activist institutional investors who appear to be locked in climate science dogma of 20 years ago, when global warming began to flatline while carbon dioxide levels continued to increase, thus deflating the theory of human-caused global warming.
In writing to the Ontario Securities Commission on Aug. 27, 2017, to express concerns about UNPRI interference in Canadian markets, Friends of Science said investors should be held to the same standards of continuous disclosure as the corporations they invest in; consequently, institutional investors should recognize that climate science indicators show that "carbon dioxide is not the knob that can control climate" – a quote attributed to atmospheric scientist Dr. Judith Curry.
In a new report by Robert Lyman entitled "Renewable and Conventional Energy Generation: Comparing the Costs," published by Friends of Science Society Feb. 6, 2018, it seems clear that wind and solar can only compete if receiving significant subsidies and with natural gas back-up 24/7.
The whole 'low-carbon' premise for the use of wind and solar relies entirely on the claim that carbon dioxide emissions from fossil fuels drive global warming, a view that Friends of Science disputes, saying that the sun, in concert with ocean cycles, is the main direct and indirect driver of climate change.
About
Friends of Science Society is an independent group of earth, atmospheric and solar scientists, engineers, and citizens, celebrating its 16th year of offering climate science insights. After a thorough review of a broad spectrum of literature on climate change, Friends of Science Society has concluded that the sun is the main driver of climate change, not carbon dioxide (CO2).
Friends of Science Society
P.O. Box 23167, Mission P.O.
Calgary, Alberta
Canada T2S 3B1
Toll-free Telephone: 1-888-789-9597
Web: friendsofscience.org
E-mail: contact(at)friendsofscience( dot)org
Web: climatechange101.ca