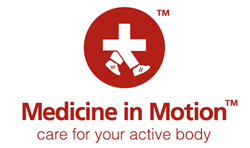 We'll be at the start, along the route, and at the finish line medical tent if you need us. We will bring our best so you can be your best!
AUSTIN, Texas (PRWEB) February 08, 2018
Austin-area sports medicine facility Medicine in Motion is proud to announce that owner and physician Dr. Martha Pyron will continue for a second year in a row to serve as medical director for the Austin Marathon, which annually hosts runners from all 50 states and more than 20 countries around the world.
"We are very excited to return as the official medical provider for the Austin Marathon," said Dr. Martha Pyron, owner of Medicine in Motion. "We'll be at the start, along the route, and at the finish line medical tent if you need us. We will bring our best so you can be your best!"
The role of a medical director is to determine the appropriate safety and medical coverage needed based on the specific sporting event. Dr. Pyron works closely with several Austin-area race directors to provide expert-level injury prevention and injury care before, during, and after an athletic event or race.
An athlete herself, Dr. Pyron is in a unique position to determine when a participant is no longer fit to continue the race, or when transport for advanced medical care is required. Dr. Pyron analyzes the potential for injury and illness and creates safety protocols specific to each event in accordance with best medical practices.
Dr. Pyron is board certified in both family medicine and sports medicine. She obtained her medical degree from The University of Texas Health Science Center in San Antonio, completed a residency program in Family Medicine at Southern Colorado Family Medicine, and pursued a fellowship in Sports Medicine at Michigan State University, Kalamazoo Center for Medical Studies. She started her career as a team physician for Penn State University and then returned to her home state of Texas and worked as a sports medicine specialist and team physician for the University of Texas at Austin. Dr. Pyron currently owns and operates Medicine in Motion.
The Austin Marathon will celebrate its 27th year running in the capital of Texas on February 18, 2018. Having start and finish locations just a few blocks apart, being within walking distance of many downtown hotels and restaurants, and finishing in front of the picturesque Texas State Capitol makes the Austin Marathon the perfect running weekend destination. Participants can register for the marathon, half marathon, or 5K.
Medicine in Motion (MIM) specializes in providing top quality sports medicine in Austin, Texas, for athletic individuals of all ages and levels. The staff at MIM believes active bodies are healthy bodies, therefore it is the office's goal to keep patients energetic and fit. To that end, MIM provides treatment of injuries and illnesses, including the use of physical rehabilitation; promotes healthy living with personal training and nutrition coaching; and offers comprehensive sports medicine evaluations to optimize health, activity level and sports performance. For more information or for questions regarding sports medicine in Austin, contact Medicine in Motion at 512-257-2500 or visit the website at http://www.medinmotion.com.