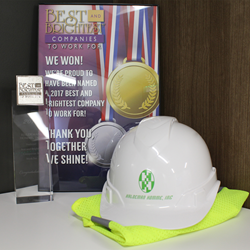 HHI is focused on the success of our employees in and outside of our workplace
MINNEAPOLIS (PRWEB) February 08, 2018
Haldeman Homme, Inc. (HHI) is excited to announce we are recognized as a 2017 Best and Brightest Companies to Work For in the nation. HHI's mission is to improve the lives of the people we serve; this includes our clients, our partners, our communities and our employees. HHI is focused on the success of our employees in and outside of our workplace. As a results driven company, HHI continually strives to improve our high performance culture and team based work environment. Through a world class employee experience HHI is delivering a world class customer experience. This dedication is recognized in our first nomination becoming our first appointment as a Best and Brightest Company to Work For in the nation.
The HHI ESOP (Employee Stock Ownership Program) means our employees require an ownership mindset and also an investment in HHI's success. Surveys show privately held ESOP companies are more successful than non-ESOPs because employee owners feel they are important to the overall mission and success of the business and are empowered at all levels as owners. HHI encourages open communication to ensure everyone shares in the company's vision and values in execution of our mission. YES we are hiring nationwide! http://www.haldemanhomme.com/careers
The Best and Brightest Companies to Work For® competition identifies and honors organizations that display a commitment to excellence in their human resource practices and employee enrichment. Organizations are assessed based on categories such as communication, work-life balance, employee education, diversity, recognition, retention and more.
Haldeman Homme, Inc. provides design assistance, sales and service of laboratory equipment, classroom and science casework, athletic flooring, storage equipment, filing systems, and technology education equipment and curriculum. Our clientele include contractors, architects, healthcare, educational, research and industrial facilities. You can find more information and a complete list of product solutions and partners at http://www.haldemanhomme.com.