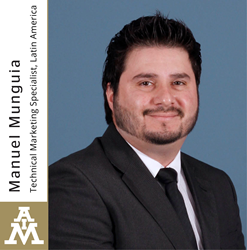 CRANSTON, R.I. (PRWEB) February 08, 2018
AIM Solder, a leading global manufacturer of solder assembly materials for the electronics industry, is pleased to announce the promotion of Manuel Munguia to Technical Marketing Specialist, Latin America. Mr. Munguia will serve in this capacity in addition to his current role as Senior Technical Support Engineer, Mexico, Central and South America.
With 20 years of industry experience and more than five years with AIM Solder, Mr. Munguia's extensive knowledge of AIM's products and market requirements will allow him to provide high level contributions to the company's Technical Marketing efforts. He will be focused on expanding and improving technical marketing materials, including white papers, speaking opportunities, general presentations, and training materials.
"Having worked closely with Manuel on several key projects, we recognized that his depth of knowledge, attention to detail, and enthusiasm for teaching and learning would provide a meaningful contribution to the AIM Technical Marketing team," said AIM's Technical Marketing Manager, Timothy O'Neill. "I congratulate Manuel on his success and I'm looking forward to his contributions to AIM's growth in the Latin American market."
About AIM
Headquartered in Montreal, Canada, AIM Solder is a leading global manufacturer of assembly materials for the electronics industry with manufacturing, distribution and support facilities located throughout the world. AIM produces advanced solder products such as solder paste, liquid flux, cored wire, bar solder, epoxies, lead-free and halogen-free solder products, preforms, and specialty alloys such as indium and gold for a broad range of industries. A recipient of many prestigious SMT industry awards, AIM is strongly committed to innovative research and development of product and process improvement as well as providing customers with superior technical support, service and training. For more information about AIM, visit http://www.aimsolder.com.
Upcoming Events:
March 14-16, 2018 – Productronica China – Shanghai New International Expo Centre, Shanghai, China
March 28, 2018 – SMTA West Penn – DoubleTree Monroeville, Monroeville, PA
April 10, 2018 – SMTA Dallas – Plano Centre, Plano, TX
April 11-12, 2018 – SMTA Atlanta – Infinite Energy Center, Duluth, GA