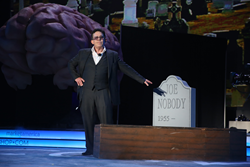 "We cannot collect more time, we cannot make more time, we cannot earn more time – all we can do is fully leverage the time we are given and make the most of our DASH."
MIAMI (PRWEB) February 08, 2018
The "Shopping Annuity" dominated the American Airlines Arena in Miami from February 1st through February 3rd for the 2018 Market America|SHOP.COM World Conference and 25th Anniversary Celebration. The event showcased many exciting updates for the company including new technologies, new products, new strategic initiatives, new opportunities being seized and, most importantly, how to "Convert Spending Into Earning" and create an ongoing income through the company's revolutionary "Shopping Annuity" program. The Shopping Annuity rewards smart consumers for shifting their purchases to SHOP.COM of the same everyday products that they are already purchasing from multiple brands. This is effected by analyzing consumer spending habits with cutting edge digital tools, using SHOP.COM's comparison shopping engine to find the best prices and allowing consumers to earn up to 50% Cashback on qualifying purchases.
"We are changing the world by leveraging our collective buying power to build our own economy that pays us all to shop," said JR Ridinger, Founder, Chairman and CEO of Market America|SHOP.COM. "People everywhere are succeeding more rapidly through Market America's UnFranchise® business. The Shopping Annuity has facilitated this unprecedented growth and strength of the UnFranchise® business model; we couldn't be more proud of the continuing successes of our UnFranchise Owners." Ridinger continued "with our one-to-one marketing, universal shopping cart, referral tracking system and the power of people, our economic future is now squarely in the hands of the consumer. This has been 25 years in the making and we're just getting started."
The event featured the Market America|SHOP.COM executive team, tens of thousands of successful entrepreneurs and celebrity guests, including recording Grammy-nominated artist and entrepreneur Fat Joe (the company's President of Urban & Latino Development), actress and entrepreneur La La Anthony, NBA Hall Of Famer and 6 time NBA Champion Scottie Pippen and others.
Among the highlights of the event:

JR Ridinger, Founder, Chairman & CEO of the company, could not contain his enthusiasm for the success of the Shopping Annuity program, his brainchild. JR repeatedly demonstrated how adherence to the program generates substantial residual income over an extended period of time, ultimately resulting in great life freedoms for participants. In traditional JR fashion, he used multiple metaphors and symbols to drive his point home – whether demonstrating the inefficiencies of the "rat race" while on a giant hamster wheel or speaking to "Joe Nobody," who lived and died an anonymous life without taking any chances to build for his future or the pitfalls of "the 45-year plan" that most working people get consumed by without ever realizing it. JR even got into a coffin (as "Joe Nobody") to drive this point home. Based on digital aggregation and collective buying power and funded by one's existing everyday spending rather than income, JR proved that the Shopping Annuity is the single greatest initiative that will drive both tremendous wealth creation for participants and exponential growth for the company. He also demonstrated what the company is doing to greatly simplify the Shopping Annuity program. JR's appreciation for those onboard with him for the long haul was expressed in several emotional and tear-filled presentations from the business maverick.
Loren Ridinger, Senior Executive Vice President of Market America|SHOP.COM and creator of the Motives by Loren Ridinger cosmetics brand, mesmerized the crowd in her welcome address with her emotional and passion-fueled inspirational message of empowerment and self-love. Loren wowed the sold out audience with her powerful yet simple message about the importance of overcoming your fears. "So often, your greatest fear is yourself. If you can confront and overcome your fears, you'll be on the path to victory. If there is no enemy within, there is no enemy outside who can harm you, period," said Loren. Perhaps Loren's most powerful message was "believe you deserve it and the universe will serve it. You can fail at a lot of things -- especially things you don't want -- so how about trying to do something you love first!"
In two presentations called "The Total Package," Market America|SHOP.COM President & COO Marc Ashley detailed the newest features on the SHOP.COM site, including enhancements to its highly successful Cashback program that allows customers to earn money for shopping, as well as enhancements to the company's other digital assets. Marc also showcased the newest version of digital personal shopping assistant SHOP BuddyTM, showcased the company's new MasterCard® gift card offering, showcased the company's recently launched secured credit card program and encouraged attendees to earn cashback via the company's super successful SHOP Local program. The SHOP Local program rewards customers of SHOP.COM for their offline spending (such as eating at restaurants and patronizing service establishments such as dry cleaners and auto repair shops) while at the same time allowing local small business owners to tap into SHOP.COM's extensive loyal customer base. Marc also shared with the capacity crowd several new "Shopping Annuity" branded everyday essential products such as an all-natural whitening toothpaste and razor blades for men and women. Further, Marc presented an often hysterically funny roast during his lookback at the company's last 25 years featuring vintage photos that documented the company's history.
Amber Ridinger-McLaughlin and Duane McLaughlin, creators of DNA Miracles™, showcased several recent additions to the DNA Miracles Line, including DNA Miracles Natural Kids Shampoo + Body Wash, DNA Miracles Natural Kids Conditioner, DNA Miracles Natural Kids Bubble Bath, DNA Miracles Natural Kids Detangler and DNA Miracles Natural Kids Lotion. Amber and Duane's extraordinary passion about ensuring that parents are empowered with the best natural products for their young children was contagious.
Grammy-nominated artist and entrepreneur Joseph "Fat Joe" Cartagena, the company's President of Urban and Latino Development, delivered a heartfelt presentation about how the Shopping Annuity continues to positively change lives by providing ordinary people with simple ways to build residual income in a presentation called "All The Way Up" (named after his hit song).
Actress/entrepreneur La La Anthony took the stage to share her strategies for "How To Engage Your Motives Customers," giving the audience great tips on effective engagement and selling techniques for the most successful cosmetics brand on Instagram (the Motives account currently has 2.3 million followers).
NBA Hall-of-Famer and 6 time NBA Champion Scottie Pippen was on hand to spotlight the impressive results and success of his Market America-exclusive product, Prime™ Joint Support by Isotonix®.
Many UnFranchise® Owners shared their business building tips and success stories regarding how the UnFranchise® business has empowered them to create financial freedom. In addition, many were formally recognized onstage by the company for their achievements.
Set forth below is a link to the master list of stage presentations for the Market America|SHOP.COM 2018 World Conference, including links to video clips of same as well as the overall event highlight video.
MAWC 2018 Stage Presentation YouTube Playlist -- http://bit.ly/2DXVZcl
ABOUT MARKET AMERICA, INC. & SHOP.COM
Currently in its 25th anniversary year, Market America, Inc. is a product brokerage and Internet marketing company that specializes in One-to-One Marketing. Its mission is to provide a robust business system for entrepreneurs, while providing consumers a better way to shop. Headquartered in Greensboro, NC, the company was founded in 1992 by Chairman and CEO JR Ridinger and has generated over $8 billion in accumulated sales. Market America employs nearly 1,000 people globally with operations in the United States, Canada, Mexico, Taiwan, Hong Kong, Singapore, Australia, United Kingdom, Spain and Malaysia. Through the company's shopping website, SHOP.COM, consumers have access to over 60 million products, including Market America exclusive brands and thousands of top retail brands. Market America's revolutionary Shopping Annuity program, which helps smart shoppers convert spending into earning, is an extraordinary and financially meaningful benefit of the business. Internet Retailer has ranked SHOP.COM #66 in the 2017 Internet Retailer Top 500 Guide, the #43 largest global online marketplace and the 18th fastest growing Internet Mobile Retailer. By combining Market America's entrepreneurial business model with SHOP.COM's powerful comparative shopping engine, Cashback program, Hot Deals, SHOPBuddy™, Express Pay check out, social shopping integration and countless other features, the company has become the ultimate online shopping destination.
For more information, please visit http://www.marketamerica.com or http://www.SHOP.COM.