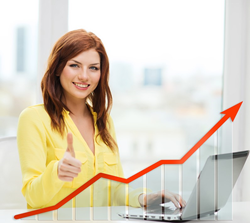 Women can lead the way in using technology to grow small businesses in innovative ways.
HOBOKEN, N.J. (PRWEB) February 08, 2018
A NYC area retail technology consultant and MSP explores the key to women-owned business revenue growth in a new article on the eMazzanti Technologies website.
In the informative article, the company cites statistics regarding women-owned businesses that show smaller revenues and lagging revenue growth compared to all businesses. Numerous ways that technology enables revenue growth are then presented with examples of technology use in women-owned businesses.
As a women-owned technology business, eMazzanti Technologies then offers its own success as an example of the opportunities that exist for women in business. Finally, the company expresses its desire to form long-term business relationships with other women-owned firms.
"There are countless opportunities for women in technology." stated Jennifer Mazzanti, CEO of eMazzanti Technologies. "Likewise, women can lead the way in using technology to grow small businesses in innovative ways."
Below are a few excerpts from the article, "Technology Key to Women-owned Business Revenue Growth."
"Women-owned businesses are growing rapidly in numbers but lag in size and revenues compared to all U.S. firms. Finding the key to revenue growth in women-owned businesses is a good starting point for closing the gap."
The secret to growth in women-owned businesses
"What role does technology play in business growth? Modern technology allows small businesses to operate in new and exciting ways, opening creative paths to success. In addition, technology has become an equalizing force for startups competing with larger firms."
"This is great news for those women-owned firms that fill the small business space. Since technology is the key to small business growth, one must conclude that it also provides the most effective tools for women-owned business owners who want to grow revenues and profits."
"Modern technology is a boon to customers, business owners and employees who enjoy working more efficiently. Practical, affordable technology options designed to enhance revenue growth abound for any business."
Women-owned technology for women-owned businesses
Modern society applauds women-owned businesses and women in technology. eMazzanti Technologies combines the two in a powerhouse New York City area IT consulting firm. Co-founder and CEO, Jennifer Mazzanti, has grown the business by double digits annually since its founding in 2001.
As a women-owned business, eMazzanti Technologies understands the barriers, speaks the language and has succeeded in growing customer revenues for 17 years. Much of that success is due to quickly adopting the latest business technologies.
eMazzanti knows that relationships make the difference in the outcome of any endeavor, including technology. Thus, the company seeks to build long-term partnerships with women-owned businesses based on trust, performance and mutual success.
Related resource information:
Women in Technology: Vision and Passion for Today's Business Environment
The History of Women in Technology – Longer Than You Think!
About eMazzanti Technologies
eMazzanti's team of trained, certified IT experts rapidly deliver retail and payment technology, digital marketing services, cloud and mobile solutions, multi-site implementations, 24×7 outsourced network management, remote monitoring and support to increase productivity, data security and revenue growth for clients ranging from law firms to high-end global retailers.
eMazzanti has made the Inc. 5000 list eight years running, is a 2015, 2013 and 2012 Microsoft Partner of the Year, 2016 NJ Business of the Year, 5X WatchGuard Partner of the Year and one of the TOP 200 U.S. Microsoft Partners! Contact: 1-866-362-9926, info(at)emazzanti(dot)net or http://www.emazzanti.net Twitter: @emazzanti Facebook: Facebook.com/emazzantitechnologies.