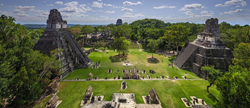 We knew there was going to be more, but the scale of it blew our minds
SAN IGNACIO, Belize (PRWEB) February 10, 2018
A recent New York Times article confirms what The Lodge at Chaa Creek's Belizean naturalist guides have been saying for years – ancient Maya cities were far bigger than most people imagine.
Brion Young of Chaa Creek's Natural History Centre in Belize's Cayo District was discussing an article titled; "Lasers Reveal a Maya Civilisation So Dense It Blew Experts' Minds" published 3 February 2018, by the New York Times.
"Many of us have been saying for years that ancient Maya cities and suburbs were much, much larger than most people believe, and this new research confirms that," Mr Young said.
"People who live and work in the vast rainforests surrounding Chaa Creek are always coming across evidence of the ancient Maya, whether artefacts, habitation areas, underground storage vaults, temples and things like that. Not that long ago this area was home to loggers, chicleros who harvested chicle for the chew gum industry, hunters, medicinal plant gathers and other people who worked deep inside the jungle. You'd always hear about these ancient Maya discoveries.
"What's interesting is that new, cutting edge technology is just confirming what our grandfathers have been telling us – that the scale and scope of the Maya civilisation is much larger than most people believe," he added.
The NYT article describes how researchers using a new technology known as Light Detection and Ranging, or LiDAR, are now able to penetrate dense forest canopies to reveal structures that have been hidden for centuries.
Much like Sonar underwater, LiDAR uses laser beams shot from airplanes into the thick jungle foliage that bounce back to give detailed images of the surface below. Researchers are then able to interpret those images to create detailed models showing buildings, causeways, irrigation canals, agricultural terraces and other structures that make up cities and habitations.
And, as the article suggests, what researchers are finding is mind-blowing.
"Everywhere that we looked, there was more settlement than we expected. We knew there was going to be more, but the scale of it blew our minds," Thomas Garrison, a National Geographic explorer and Ithaca College archaeologist reported from a LiDAR expedition in just over the border from Chaa Creek in Guatemala that uncovered some 60,000 homes, palaces, burial chambers, causeways and more.
Mr Young said a similar LiDAR project at the sprawling metropolis of Caracol in Belize also revealed that city to be much larger than previously believed.
At Caracol, Arlen and Diane Chase, after decades of hacking through the dense Belizean jungle, directed the University of Florida Caracol Archaeological Project, in collaboration with the Belize Institute of Archaeology that used a NASA funded LiDAR survey in 2009 to reveal that the ancient city extended miles beyond its previous supposed boundaries.
"It's funny," Mr Young said, "That we used the same words – 'mind blowing', when we realised just how large Caracol is."
Why is a Belizean eco-resort so interested in new archaeological discoveries?
Lucy Fleming, who with her husband Mick opened Chaa Creek at their family farm in 1981 and oversaw its evolution as one of Belize and the region's largest and most highly awarded eco-resorts, said archaeology and Maya culture was always part and parcel to Chaa creek's development.
"We started Chaa Creek with a love affair with the spectacular natural beauty and rich cultural heritage that surrounded us. I think it's impossible to live here and not feel a connection to the land and Maya culture it supported. There's the intangible cultural identity that lives on today, and the many tangible artefacts, temples, vast ancient cities and other remnants of a fascinating, enigmatic civilisation that flourished all around us for thousands of years.
"Over time we've been able to preserve a 400-acre private nature reserve that contains some 70 recorded ancient Maya archaeological sites and the temple of Tunchilen, and it's hard to dig a hole anywhere here without uncovering some ancient artefact. For example, when we dug an underground cable to put electricity into our gift shop, we unearthed a perfectly preserved ancient underground storage vault known as a chultun, that we'd been walking over for years.
"We're happy to see that many of our guests become curious and then fascinated with the local Maya heritage, and cultural tourism is becoming more popular all the time. One of the best parts of promoting sustainable tourism is knowing that you're helping to keep a link to the past alive, and awaken that connection to the past in overseas guests, students and local visitors.
"News like this New York Times article keeps interest alive, which in turn helps promote and preserve the Maya culture, and that's a very good thing.
"Plus, there's something exciting about knowing that this beautiful, lush jungle that surrounds us is filled with ancient mysteries just waiting to be revealed. We just keep waiting to hear of more discoveries," Ms Fleming said.
The Lodge at Chaa Creek is a multi-award winning eco resort set within a 400-acre private nature reserve along the banks of the Macal River in Belize. It was recognised by National Geographic with first place honours at the 2017 World Legacy Awards held in Berlin.
ENDS