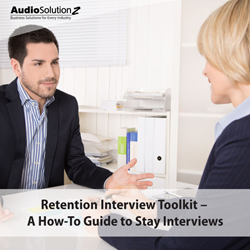 Stay interviews are a proven method of decreasing turnover and increasing retention.
DURHAM, N.C. (PRWEB) February 08, 2018
AudioSolutionz, a division of corporate education leader ProEdTech, will host the live webinar "Retention Interview Toolkit: A How-To Guide to Stay Interviews" with industry veteran Wes Pruett on Tuesday, February 13, 2018 at 1:00 pm ET. Wes will outline a plan of action to increase your chances of retaining your most valuable employees.
Across the country, increasing employee turnover is expected to continue, costing companies valuable productivity and effectiveness. That's why it's more critical than ever to hold onto your high-skills staff. One emerging solution is the stay interview.
Stay interviews have the benefit of increasing employee motivation, engagement, development, and empowerment, according to Pruett. Stay interviews identify areas of retention risk, offer a proactive solution for managing that risk, and allow you to target your retention efforts on high-impact employees.
Not sure what your retention efforts should look like? You're not alone. Most companies see retention as a key strategic imperative, however, less than half have a specific retention plan. And most retention plans are overly general, expensive, and have little positive impact on turnover.
Instead: Stay interviews offer a specific, directed, and effective solution to the turnover problem. This interview tactic digs deep into the reason why an employee is likely to stay—or leave—and then develops a customized retention plan for that employee.
In this session, expert speaker Wesley Pruett will not only guide you through the steps of conducting stay interviews but will also arm you with a practical toolkit that contains: a supervisor's pre-interview sheet, a staff questionnaire, specific questions to ask (in 10 key areas), an individualized retention plan document, and a retention tracking form. This retention toolkit will help you get at the source of your turnover problem and allows you to work collaboratively with employees to promote productivity and growth—for both personnel and the company.
The session cover:

The real cost of turnover
Which factors most impact why employees stay—and leave
What a retention plan is, and what metrics to measure
What a stay interview is
The stay interview v. the exit interview, and why the latter is superior
How to set the stage for an effective stay interview
5 essential communication steps
How to use the retention interview toolkit
10 retention factors—and how to ask questions that dig into these
How to track retention risk and employee performance
How to hold managers accountable for retention
For more information and to register, visit: https://www.audiosolutionz.com/hr-compliance-employment/successful-stay-interviews-and-retention-toolkit.html
About ProEdTech
ProEdTech is a leading source of knowledge and training for professionals in over 15 industries, serving individuals, businesses and their employees around the globe. It offers webinars, online conferences, seminars, boot camps, books, DVDs, white papers, industry reports and other learning tools from industry experts and insiders who provide a fresh perspective on key issues, trends and regulations in order to simplify governance, risk and compliance (GRC) for enterprises and industry professionals.
ProEdTech's AudioEducator webinars offer updates, regulatory knowledge and information on the latest news in various medical specialties, as well as coding and billing updates, and analysis of regulations that affect ambulatory surgical centers, home health, long term care and hospice facilities, hospitals and healthcare systems, health insurers and physician practices. Webinars are also offered through AudioSolutionz in the technology, human resources, construction and housing, ICT and telecom, manufacturing, consumer packaged goods and retail, safety and security, transportation, energy and environment, education, trade, and chemicals industries. ProEdTech's Eli Financial platform offers tax and banking professionals, focusing on providing high-quality online training products customized for U.S. lenders and tax practitioners that include the latest updates from the IRS, CFPB and other regulatory authorities. Lawyers across the United States depend on Eli CLE for top quality online continuing legal education (CLE) programs, which can be completed for MCLE credits.
ProEdTech regularly provides professionals the opportunity to get answers to their most complex questions directly from experts, without having to attend costly live conferences. To learn more, visit: http://www.proedtech.com/.