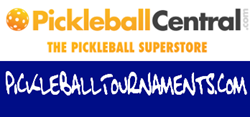 This transaction helps both Pickleball Central and PickleballTournaments.com better serve pickleball tournament directors, players and the sport's growth overall. Pickleball Central is an ideal partner to help us advance our technology, expand our services and best support our customers."
KENT, Wash. (PRWEB) February 09, 2018
Olla LLC, the parent company of PickleballCentral.com, announced today that it has completed the acquisition of PickleballTournaments.com. While the financial details of the deal are not being made public, under the agreement, Olla LLC will acquire substantially all the assets of Pickleball Tournaments LLC. PickleballTournaments.com is the overwhelming market leader in online pickleball tournament software,tournament operations management, training and consulting, which makes it a perfect complement to Pickleball Central's position as the world's largest company exclusively devoted to pickleball.
PickleballTournaments.com President Melissa McCurley will remain President of PickleballTournaments.com, which will operate as an independent division supported by all the resources of Pickleball Central (and its sister company Pickleball Station). Ms. McCurley and her core tournament operations team will remain located in Arizona, while technology operations will relocate to Washington State. Greg Thompson, Co-Owner of PickleballTournaments.Com will remain in Virginia and work with the Washington based team through a technology transition period expected to cover several months. Business operations will be uninterrupted by the transaction.
Well known and highly regarded throughout the pickleball industry for her expertise and commitment in supporting the sport, Ms. McCurley will continue in her leadership role directing the firm's exceptionally fast growth. In the past three years, PickleballTournaments.com has grown from managing 93 tournaments for 22,000 players to this year planning to support over 500 events with over 60,000 entrants.
"The acquisition made perfect sense," shared Pickleball Central Executive Vice President Anna Copley. "We were already strategic partners working on a variety of joint projects. The more the two companies worked together, the more we saw the incredible synergies between our two firms."
McCurley plans to leverage the resources of Pickleball Central immediately to benefit both players and tournament directors. "Joining forces with Pickleball Central gives us the resources to rapidly grow the business," Ms. McCurley said. "Their incredible reputation for customer service and operational excellence will help us continue to meet the exploding demand for our software and services. The new structure will enable me and my team to spend more time in the field with tournament directors, while also enabling us to more quickly execute technology projects to make tournaments run even smoother and more efficient than they already do today. Having a team of 40 people at Pickleball Central backing me up gives me incredible confidence to meet the needs of our partners, customers, tournament directors and players."
Pickleball Central plans to immediately execute a sizeable investment in the software platform to ensure the business is able to continue to meet the growing needs of its users, strategic partners, tournament organizers, and players. "The synergies of this relationship were really exciting as we dug into this opportunity," explained Pickleball Central President David Johnson. "My partners and I have collectively over 70 years of technology and software management experience that is also combined with our last decade devoted to pickleball. This gives us a unique set of skills to support PickleballTournaments.com. We are already extensive users of the software as we run four to six tournaments each quarter here at the courts in our facility. We have a team ready to go to support Melissa as her business grows."
The addition of Ms. McCurley and her team to Pickleball Central demonstrates the company's commitment to being a welcoming home for highly talented pickleball professionals. In 2016, the company acquired Pickle-Ball Inc, the original company founded to introduce pickleball to the world. The company is home to the Pickleball Museum and the Pickleball Hall Of Fame. The company's staff includes some of the world's best pickleball players and instructors such as Glen Peterson, Brian Ashworth, Peter Huduchko, and Tonja Major.
"We are incredibly excited about joining forces with Pickleball Central" concluded Ms. McCurley, co-owner of PickleballTournaments.com. "Our companies operate with the same core values of providing the highest quality products, services and support. By combining the two organizations, this transaction helps both Pickleball Central and PickleballTournaments.com better serve pickleball tournament directors, players and the sport's growth overall. Pickleball Central is an ideal partner to help us advance our technology, expand our services and best support our customers."
About PickleballCentral.com
Pickleball Central is the world's largest company devoted exclusively to pickleball. The company serves over 300 distribution partners and operates several retail websites that have served over 200,000 customers worldwide. Ranked # 1 in Customer Service for Racquet Sports retailers by TrustPilot, the company is a family oriented, privately held company operating in Kent, Washington.
About PickleballTournaments.com
PickleballTournaments.com is the worldwide industry leader in pickleball tournament software, management, and services. Their web-based tournament management system is used by the thousands of tournament directors who register, organize and manage tournaments of all sizes, and is the one website all pickleball tournament players visit for tournament information, registration and to follow themselves or their friends and family through live tournament brackets and player results.