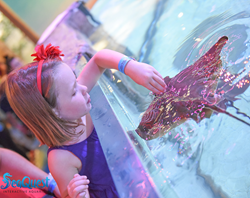 "Seaquest will be a tremendous addition, providing a fun and educational environment for families."
LITTLETON, Colorado (PRWEB) February 09, 2018
Littleton will gain an attraction this year when the new SeaQuest opens at Southwest Plaza. Construction is well under way on their newest facility. Family entertainment will be the primary focus of the aquarium, with hands on exhibits including reptiles, sharks, stingrays, and other interactive animals.
​
"Southwest Plaza has been adding destination entertainment, great restaurants, and other exciting new tenants," stated GGP Manager, "SeaQuest Interactive Aquarium will be a tremendous addition to the enhancements we've recently made, providing a fun and educational environment for families."
This newest SeaQuest location will feature over 20,000-square-feet of interactive adventures such as exotic sea life in Caribbean Cove, tropical birds in Amazon Rainforest, reptiles in the Egyptian Desert, otters, sharks and eels waiting to be hand fed along the Great Wall of China, and much more. Designed as a 'Quest of Edutainment', visitors to SeaQuest will journey through realistically themed exhibits where they will connect with the animals through various hands on encounters such as feeding sharks, stingrays, capybara, asian small clawed otters, giant sulcata tortoises, large exotic birds species, and thousands of other creatures along the way.
Libby Szabo, Jefferson County Commissioner stated, "on behalf of the Jefferson County Board of Commissioners, I would like to welcome SeaQuest to our community. Our county is an amazing place to call home and to work in and SeaQuest will be a great addition. I look forward to visiting with my family and friends."
"SeaQuest is very excited to open this aquarium here at Southwest Plaza in Littleton," added Vince Covino, SeaQuest CEO, "we're bringing an exciting Quest that every guest takes around the world, and we can't wait to open our doors!"
SeaQuest will initially open for Members to preview, enjoy exclusive access and be the first to interact with 1000's of species. To celebrate the coming attraction, up to 60% off Annual memberships are available at http://littleton.visitseaquest.com through the end of the month.
About SeaQuest Interactive Aquarium:
SeaQuest Interactive Aquarium brings the majestic wonders of our planet, ranging from rainforests and deserts to exotic marine life. These exhibits create an exciting quest for visitors as they make their way through an Icelandic Fishing Village, the Great Wall of China, to the Amazon River and beyond. Guests are encouraged to connect with animals and learn about their eco-systems through various hands-on activities which include hand feeding sharks, stingrays, birds and tropical animals. Anyone in search of a more daring experience can enjoy walk-in aviaries, feeding caiman alligators or snorkeling in the premier 45,000-gallon exhibit filled with reef sharks, stingrays and hundreds of tropical fish. SeaQuest Interactive Aquarium offers a private event venue ideal for school field trips, birthday parties, and private events. For full details about SeaQuest go to visitseaquest.com.