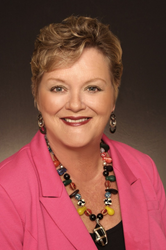 "The JTHS-MIAMI Board of Governors is looking forward to another year of serving our members and promoting South Florida real estate," 2018 JTHS-MIAMI President Barb Fox said.
MIAMI (PRWEB) February 09, 2018
The MIAMI Association of REALTORS® (MIAMI) has elected Barb Fox as the 2018 President of the Jupiter-Tequesta-Hobe Sound- MIAMI Association of REALTORS® (JTHS-MIAMI). She and her board were installed Feb. 2 at the 2018 MIAMI Inaugural & Awards Celebration.
JTHS-MIAMI leads the services, issues and needs of more than 2,500 MIAMI members in Palm Beach and Martin counties.
"The JTHS-MIAMI Board of Governors is looking forward to another year of serving our members and promoting South Florida real estate," Fox said. "We have many events, conferences and services planned for Realtors in Palm Beach and Martin counties."
Fox is a Realtor with One World Realty, Inc., which is based in Palm Beach County's Singer Island.
Fox has sold new construction, vacant land, commercial property, single family homes, condominiums, and town homes from south to West Palm Beach and north to Stuart, including properties on the Ocean and on the Intracoastal Waterway.
Fox obtained her real estate salesman license and mortgage broker license in 1994 and her real estate broker license in 1996. She is on the Board of Directors for Florida Realtors® and the National Association of Realtors® (NAR).
She serves on many committees at both the local, state and national levels, and in this capacity, she travels to Tallahassee and Washington, D.C. as an advocate for homeowner rights. Additionally, she also holds the National Realtor® Designations of Resort and Second Home Specialist (RSPS), and Internet Professional (E-PRO) as well as Florida Realtors® Honor Society.
Fox is originally from Atlantic City in New Jersey, and she also lived for 16 years in Virginia, where she was the Controller and Director of Membership for a non-profit organization in Washington, DC before relocating to Florida.
She is a mother of two children, Amy and Christopher and two grandchildren, Marley and Annabella. Her daughter, Amy, joined her in real estate four years ago and together they formed the FOX REAL ESTATE TEAM.
Fox is a retired Certified Observer with the International Game Fish Association (IGFA) where the Observer rides on the boat to make sure that the anglers adhere to tournament rules and do not kill the billfish, but rather release them for others to catch another day.
Announcing the 2018 JTHS-MIAMI Board of Governors
Joining Fox are: Kim Price, CIPS of Jupiter Lighthouse Realty; 2017 JTHS-MIAMI President Lynne Rifkin, ABR, PMN, MRP, SRES of Keller Williams Palm Beaches; Governor David Abernathy of Waterfront Properties & Club Communities; Govenor Jill Barnwell of The Keyes Company; Governor Jennifer Daversa, GREEN of PB Real Estate; Governor Martha Gillespie-Beeman, ABR, CIPS, CNE, GREEN, GRI of The Sheehan Agency; Governor Lou Ludwig, EPRO, GRI of Ludwig & Associates; Governor Bill Mate of Paradise Real Estate International; Governor Charlene Oakowsky, ABR, BPRO, CAM, CDPE, EPRO, GRI, PMN, TRC of Oakowsky Properties Inc.; Governor Anton Seiss, ABR, CCIM, CDPE, CRS, CHLMS, CIPS of Seiss Real Estate; Governor Courtney Smitheman of Crane Reed Properties, Inc.; Governor Karen Tyree of Illustrated Properties/Hobe Sound; Governor Shereen Vahabzadeh of Premier Properties of South Florida; Governor Brad Westover of Keller Williams Realty Jupiter; Business Partner Governor Kathy Phelan of Re-Design Time; Business Partner Governor Nancy Waligora, GREEN of Paradise Real Estate International; Business Partner Governor Pamela Van Woerkom of Sage Title & Escrow.
Joanne Werstlein serves as JTHS-MIAMI Vice President. Danielle Y. Clermont is the MIAMI Senior VP of Broward, Palm Beach & Martin Counties. Teresa King Kinney serves as the Chief Executive Officer of MIAMI.
About the Jupiter-Tequesta-Hobe Sound (JTHS) Council
The Jupiter-Tequesta-Hobe Sound Council (JTHS) of MIAMI Association of REALTORS® (MIAMI) seeks to serve, unify and lead residential members in Palm Beach and Martin counties. With more than 2,500 members in Palm Beach and Martin Counties, the JTHS Council provides members with a legislative voice, education opportunities, a code of ethics, networking opportunities and more. JTHS merged with the MIAMI Association of REALTORS® in September 2015. The JTHS official website is http://www.jthsrealtors.com
About the MIAMI Association of REALTORS®
The MIAMI Association of REALTORS® was chartered by the National Association of Realtors in 1920 and is celebrating 98 years of service to Realtors, the buying and selling public, and the communities in South Florida. Comprised of six organizations, the Residential Association, the Realtors Commercial Alliance, the Broward Council, the Jupiter Tequesta Hobe Sound (JTHS-MIAMI) Council, the Young Professionals Network (YPN) Council and the award-winning International Council, it represents more than 46,000 real estate professionals in all aspects of real estate sales, marketing, and brokerage. It is the largest local Realtor association in the U.S., and has official partnerships with 167 international organizations worldwide. MIAMI's official website is http://www.MiamiRealtors.com
###